Ever since embarking on my vegan journey, I have found blogs (and also cookbooks) extremely inspiring and helpful. In today's post, I would like to share some of my favorites with you. I am planning on adding to this list (most likely in a separate post) every few months or whenever I have discovered resources that are worth mentioning. Enjoy!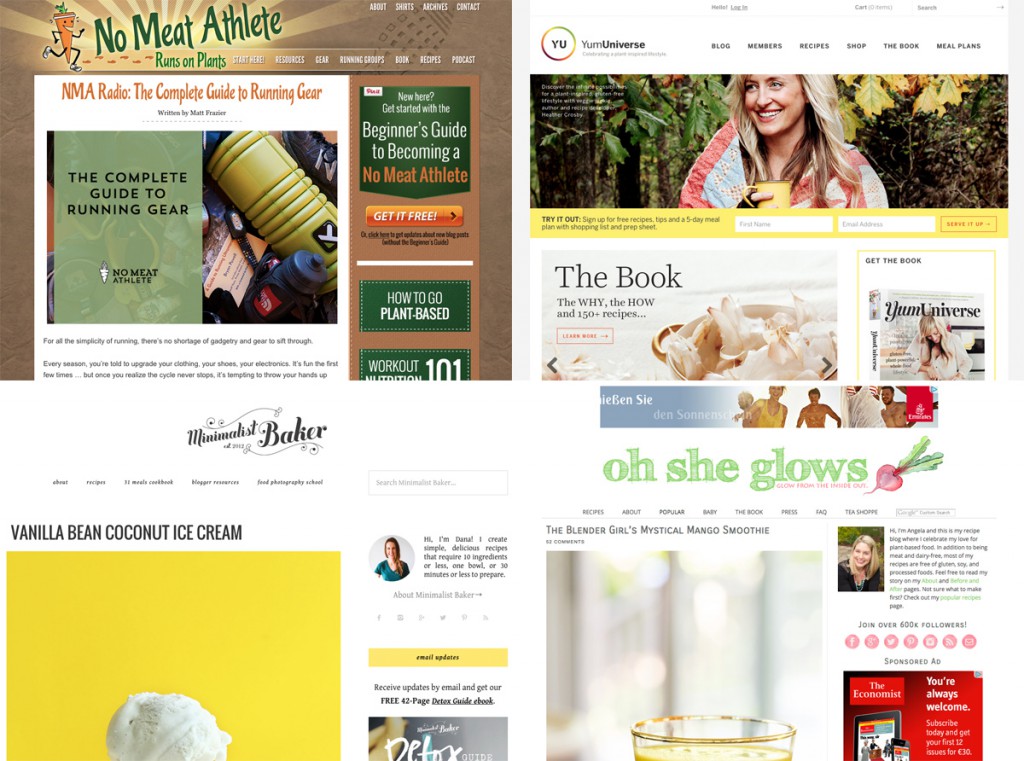 The lady behind Oh She Glows, Angela Liddon, is probably one of the most well-known vegan cookbook authors. Her first cookbook The Oh She Glows Cookbook has been on various bestseller lists ever since it was released in March 2014. Her second cookbook is due to come out soon, which I am very excited about. The only downside is that she doesn't post recipes on her blog as often as she used to, but there is still a huge collection of recipes online from before she started publishing. I love how healthy and comforting her recipes are, and the only criticism I have ever read about her book is that the recipes are too healthy. Haha. Some of my all-time favorite recipes are from Angela's cookbook (some recipes or variations thereof can be found on the blog as well): apple pie oatmeal, healing rooibos tea, festive kale salad with sweet apple-cinnamon vinaigrette & pecan parmesan, soul-soothing african peanut stew, quick & easy chana masala, perfect roasted chickpeas and peanut butter cookie dough bites. From the website, I am obsessed with: carrot cake oatmeal, happy trails adventure cookies, my favourite vegan chili, maple baked lentils with sweet potato, early morning peanut butter banana oatmeal and crowd-pleasing vegan caesar salad (I use cashew butter instead of soaked cashews though).
I recently started listening to No Meat Athlete Radio, a podcast hosted by runners Matt Frazier and Doug Hay, and I think it is very informative and entertaining. Both hosts are very approachable and they talk about many topics that are of interest to all vegan athletes (physically active people in general). I haven't had a chance to listen to all previous episodes, but some of the ones I've particularly enjoyed are: All About Supplements, How to Save Money While Eating Healthy and Vegan, and Where Do You Get Your Protein? Whenever I listen to the podcast, I feel inspired because the two hosts always give me reassurance that what I am doing is not completely wrong and that it isn't rocket science being a successful vegan athlete. Matt also regularly publishes interesting blog posts, as well as reviews and recipes on the website.
I recently discovered the Minimalist Baker website, run by Dana and John, and love how simple the recipes are. Although not all recipes are vegan, there is a separate category for vegan dishes, so they are really easy to find. Judging by the name, you would think that most of the recipes are sweets, but you can find everything from salads to desserts. The website features "recipes that require 10 ingredients or less, one bowl, or 30 minutes or less to prepare," which is great when you don't want to spend an entire evening cooking with a long list of "exotic" ingredients. I often get home late from our workouts at the club and don't have the energy to spend an hour or so in the kitchen before I have finally prepared something to eat. Not to mention that I am almost always starving. I have only tried a few recipes so far, but can recommend all of them: Easy Vegan Fried Rice, The Easiest Whole Grain Seeded Bread and Easy Whole Grain Vegan Pancakes. I definitely have plans to try many more recipes from the website though.
I purchased Heather Crosby's book YumUniverse when we were in Victoria for Herbert's PhD defense last March. Because I already have so many books, I told myself that I was only allowed to purchase one, so I spent quite a lot of time at the bookstore to find the one that would "win me over." Heather's book is great because it is so much more than a cookbook. In addition to delicious recipes, you can find information on any topic related to a plant-based diet that you can think of: the benefits of eating plant-based, the nutrients you need, how to plan ahead and how to eat plant-based in social situations. Additionally, there are sections on shopping and storage, kitchen tools, soaking, sprouting, replacements, and so much more. What I like best about the book is that it often gives you a basic recipe, for example for cashew cheese spread, with several options, like sundried tomato, lemon and garlic, artichoke, and so on. It just covers almost everything you'd want to know about a plant-based culinary life. There is also a YumUniverse website, which features many recipes, as well as informative blog posts. I have spent more time with my book than on the website though.