Having wonderful kitchen gadgets and a kitchen you enjoy working in is extremely important if you spend as much time cooking and thinking about nutrition as I do. Even though it would be nice to have more natural light, I love our kitchen. When we moved to Vienna, our parents decided to treat us to new kitchen appliances and now I can't live without them. In addition to an induction stovetop, we got the most amazing oven, which I will talk about in more detail below. Whenever I am working in another kitchen, I keep thinking "oh, I wish I had my Vitamix or my KitchenAid." Of course, it is possible to survive without all kinds of gadgets, but I think we need to treat ourselves once in a while. Certainly not all of them are as expensive as a Vitamix, so the following list should contain items interesting to most of you.
Vitamix Blender
I don't know how I would survive without my Vitamix (Professional Series 750). It was a big investment, especially for a poor student like me, but I just have weird priorities, I guess. I now have all available "accessories," the 2 liter wet container, the 0.9 liter wet container and the 0.9 liter dry container and I still find it incredible how versatile the blender it is. You can make smoothies, soups, purees, sauces, sorbets, plant "milk," flour, and so much more. It is even possible to use it for kneading dough. As a big proponent of making as much as possible from scratch, I would definitely say a good blender is worth the investment. My primary reasons for choosing a Vitamix over another brand (like Blendtec or Bianco) were its size and the fact that it is still manufactured in the United States. I try to support companies producing in "the West" because I am against cheap labor and the lack of workers' rights in many Asian countries.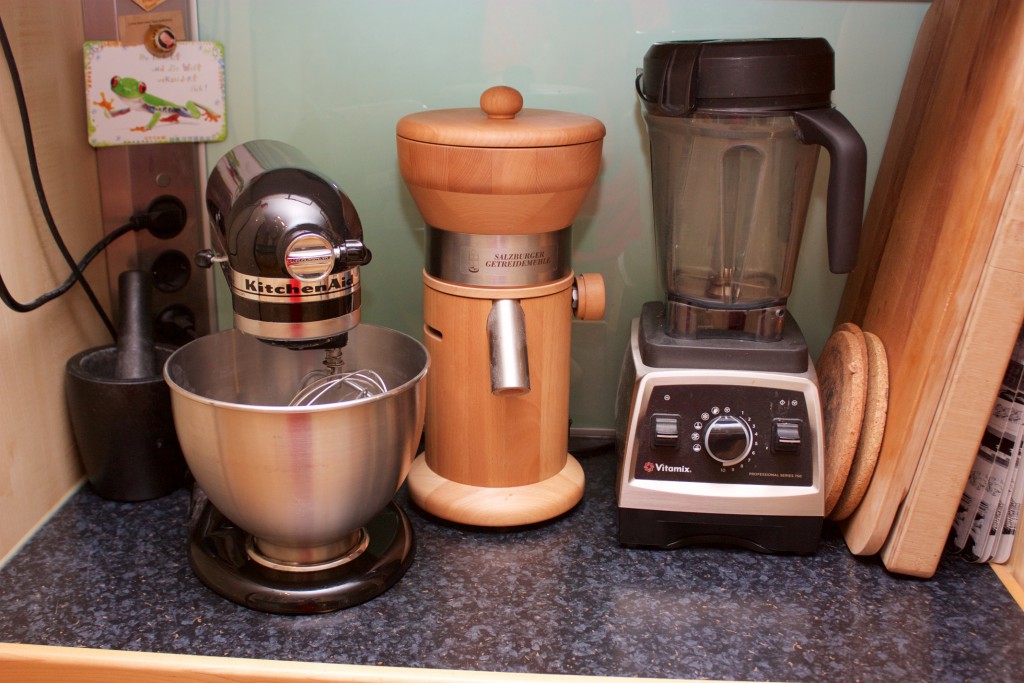 KitchenAid Stand Mixer
Before I became a vegan and got my Vitamix, I would have listed our KitchenAid Stand Mixer as my number one kitchen tool. I used it almost every day when I was still baking non-vegan "treats," but it is still very valuable today, especially if I am baking bread or need vegetables ground. When we lived in Canada, Herbert often made home-made pasta, but since we brought our mixer with us when we moved, we need to use a transformer here, which doesn't always work well. We're definitely planning on buying one with a European motor at some point, but it is significantly more expensive here, which is why we are a bit hesitant.
Grain Mill
We have a Salzburger Natural Stone Mill MT5, which technically is my mother's, but she didn't have enough room for it in her kitchen. Even though I should use it more often, I think it is great being able to grind your own flour or grits, not just because it is supposed to be healthier than the pre-ground version. Once you have the mill, it saves you a lot of money because whole grains are a lot cheaper than flour and stone-ground four is supposed to be the healthiest type because the granite stone is used as it is, without the addition of glue or synthetic materials. A grain mill is definitely not the most essential gadget, but it is nice to have.
WMF Flexi Whisk
It is basically a balloon whisk 2.0. I think the literal translation of its German name "Rührblitz," lightning whisk, is much cooler than its English name, but no matter what it is called, it is a very valuable tool. Herbert actually bought it because he thought the name was funny, but I very quickly realized that it was one of the most useful tools for vegan baking. It is great for preventing clumping in general (when you're making sauces, for instance), but I primarily use it for baking. Whereas you need to use a mixer in order to get air into the dough when you're baking with eggs, it has the opposite effect when you're following a vegan recipe (ask my mother, she has some experience with that because she usually doesn't read the vegan cookbooks I give her). Ideally, you should only mix the dry and wet ingredients very quickly for around 10 seconds and the flexi whisk is the perfect tool to achieve a nicely blended dough in such a short period of time.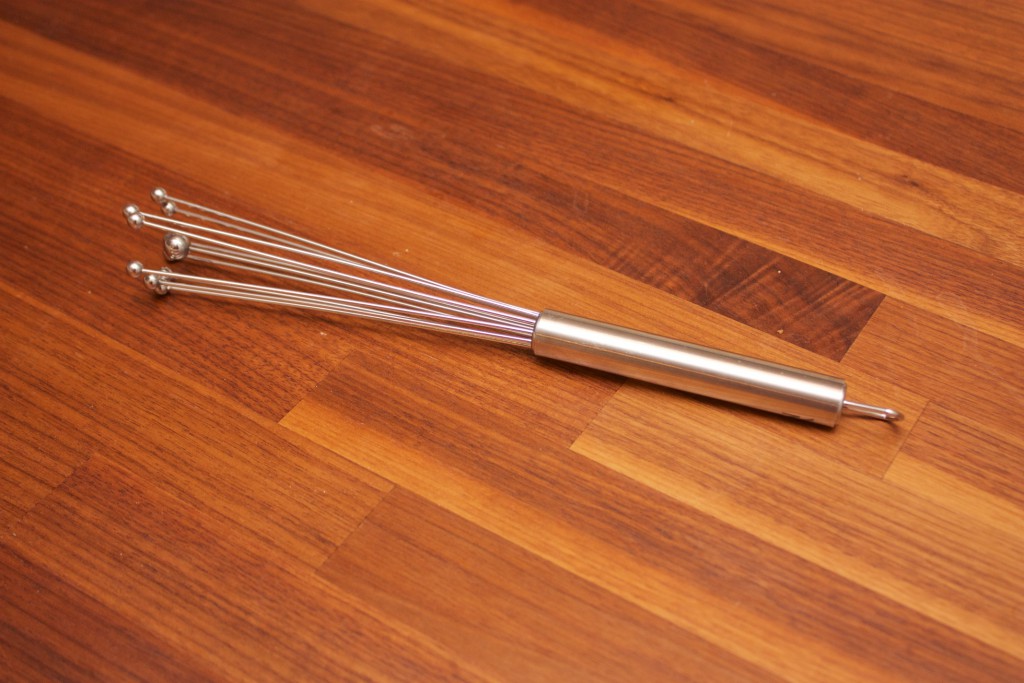 A Good Oven
I love our oven (we have a Küppersbusch Combi Steam Profi) because it can basically do anything from steaming to dehydrating. Even though I feel bad turning the oven on (even at very low temperatures) for several hours, being able to dehydrate food is essential when you are venturing into the world of raw vegan food, as I often do. If it wasn't that much work, I would eat raw almost all the time because I do believe nutrients are preserved better when food isn't cooked at high temperatures. The steamer function is great as well because you can just put the food in the oven and wait for it to be done without having to worry about it burning. It also works really well for reheating all kinds of dishes because they don't loose all their moisture. Additionally, it even has a bread baking function where the dough is steamed for a few minutes before being baked, resulting in bread that tastes like you just picked it up from your neighborhood bakery. We were really lucky that we got the oven almost half off because it was an older model. Otherwise, we certainly wouldn't have been able to afford it.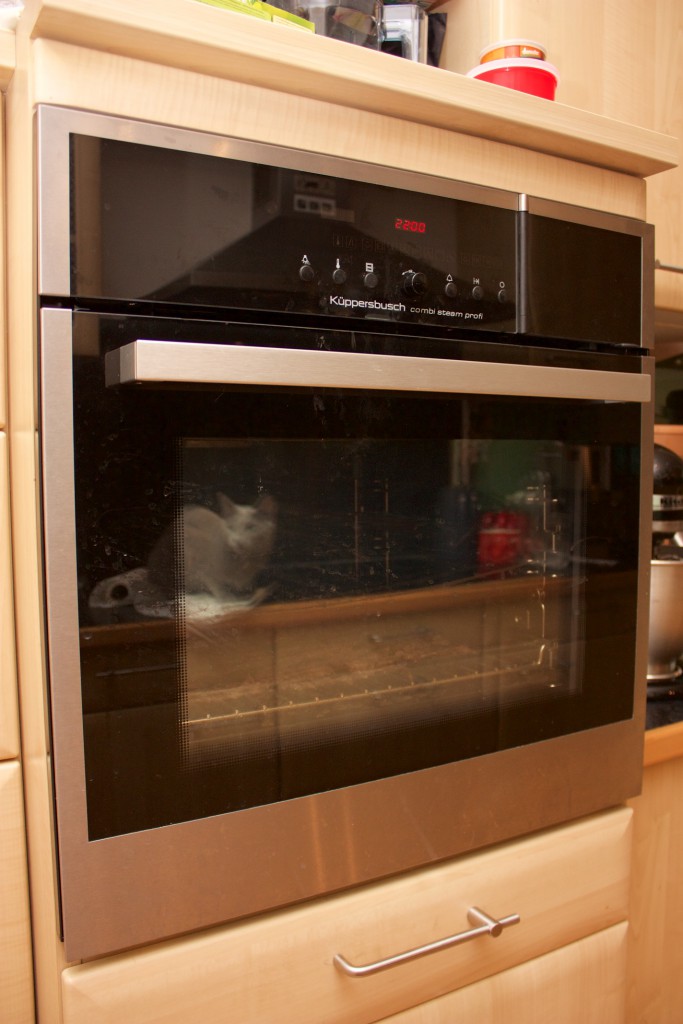 A Cheese Cloth
If you make your own nut milk, owning a cheese cloth is essential. It isn't a big investment and home-made milk tastes so much better than anything you can buy at the store. You also need a blender, but even the cheaper ones will work. If you don't have a high-speed blender, you might have more "left-overs" in the cheese cloth, but the milk will still taste good.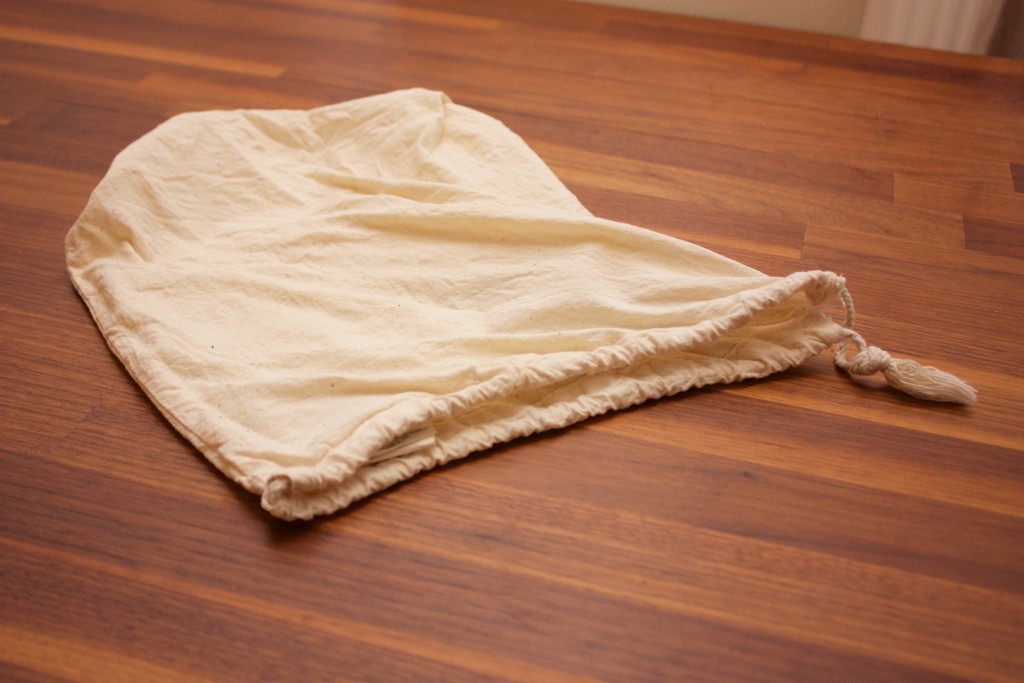 Glass Storage Containers
As I've mentioned in a previous post, we are trying a avoid plastic as much as possible. Therefore, we have different kinds of glass storage containers. For the freezer, we use Wean Green Lunch Cubes, Wean Cubes and Snack Cubes and for the fridge, we have four different sizes of WMF Top Serve with a vacuum seal.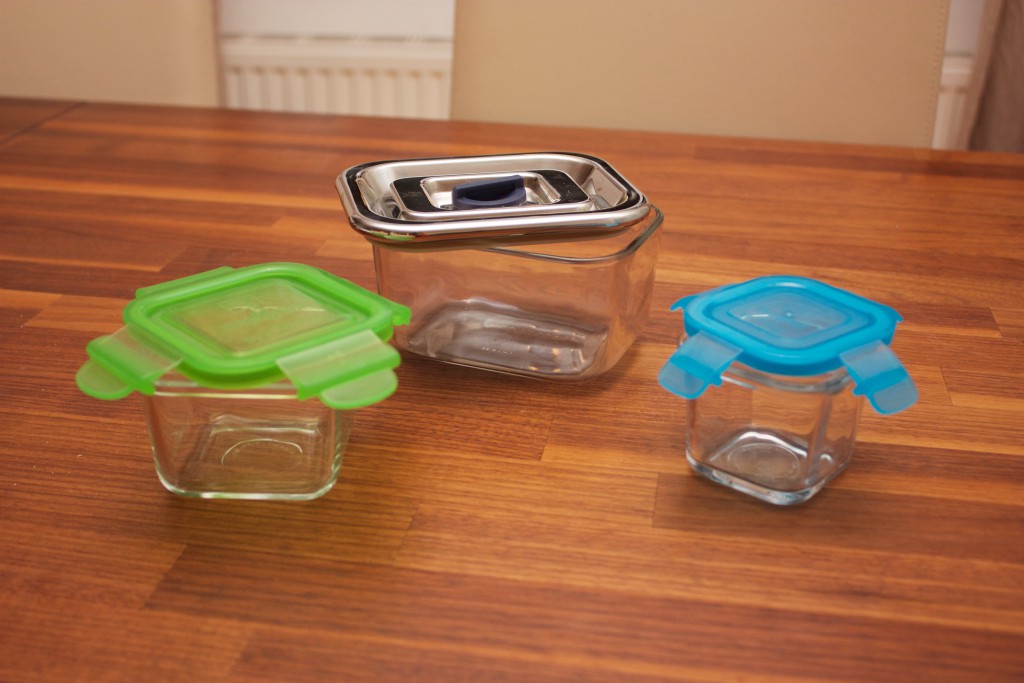 Little Bodum French Press
I know you shouldn't drink too much coffee, but sometimes, I just need a cup. Since we train really hard and I am a light sleeper, I know the afternoon energy slump all too well. It usually only takes me a little bit of coffee to get back on my feet because I don't drink it every day, and, therefore, my little 350ml french press is the perfect coffee-making gadget for me. Even though we have both an espresso machine (Rancilio Silvia) and a Bialetti moka express, I prefer making coffee in the french press when I am home alone because it is very easy and I also like the taste. Until recently, we only had the 1 liter version, but whenever I used it, I got really restless and giggly, so I decided to invest in the smallest one, which I think is really cute.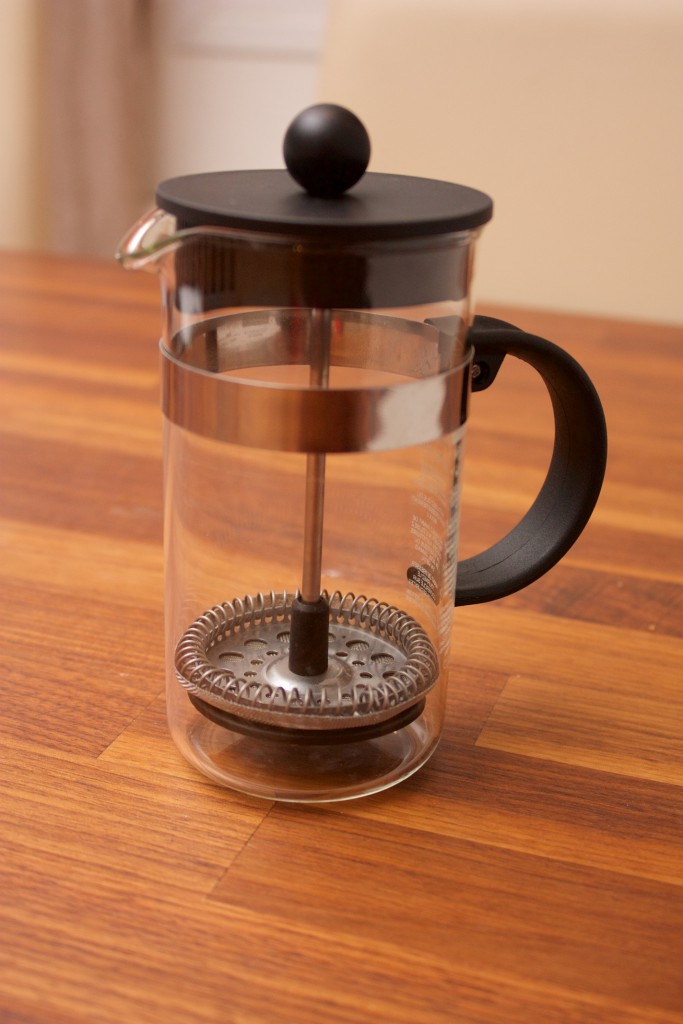 Peugeot Pepper Grinder
There's nothing better than "pimping" your meal with a little bit of fresh pepper. Ever since we got our first Peugeot pepper grinder in Vancouver almost five years ago, our pepper consumption has at least trippled. Apparently, black pepper aids digestion and the prevention of intestinal gas (read about it here), which is quite a nice "side-effect" when you eat a lot of beans and lentils, but we just like spicing things up a little bit. Fresh pepper is just so much better than the pre-ground version, so it is worth investing in a good grinder.
A Dual-Zone Fridge
Even though I think our fridge is way too small (I was used to a North American-sized fridge after all), I do like the "zero degree zone" feature, meaning that two drawers (one for vegetables and another one for meat, which is usually also fully of vegetables) are cooler than the rest. It keeps produce fresh longer, which is great when you get a delivery from your grandmother's garden once a week.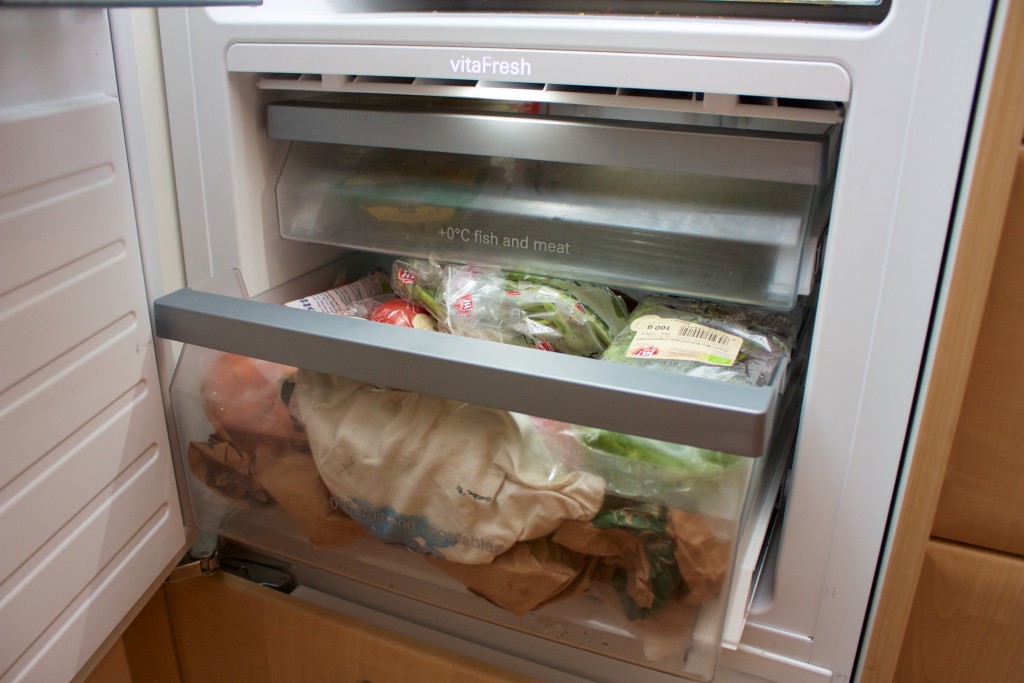 By the way, have you spotted the cat in one of the pictures?