I had toyed with the idea of buying a stainless steel bottle for my workouts for quite some time, but I kept thinking that I had enough plastic bottles that I'd gotten for free and that I didn't want to spend money on something that wasn't completely necessary. As it got hotter and hotter, however, my water started tasting funny, like plastic-infused tea. One day, an article showed up in my Facebook newsfeed, explaining how the heat causes the release of toxic chemicals, especially plasticizers, from a plastic bottle into its contents. I quickly decided enough is enough and bought a very stylish bottle, an 18oz (532ml) Klean Kanteen Reflect, on Amazon and haven't regretted my decision for one second. I am completely in love with it. The company makes many different kinds of stainless steel bottles, including lovely ones for babies, which I have bookmarked for the future. Haha.
The bottle not only looks good, but also holds very clean and fresh water that tastes like like natural spring water straight from the mountains. Of course, it depends on what kind of water you fill it with, but I just use filtered tap water (the same water that tasted bad in my plastic bottles). My water now stays cool throughout my workouts, unless it is a long session, more than 90 minutes I would say, in really hot weather. Sometimes, when I fill my bottle at home, the water condenses on the outside, which looks really refreshing. The little handle makes it really easy to carry the bottle around.
While I really like the bamboo cap (even though it is a bit noisy when you open and close it), fans of sport caps can buy one from Klean Kanteen for a few dollars. I am definitely thinking of buying more bottles in different sizes, a bigger one for indoor workouts and a smaller one for races. The 18oz version, in any case, is perfect for the average workout and I can definitely recommend it. There are many more brands of stainless steel bottles out there, and I am sure they each have their advantages. My main reasons for buying the Klean Kanteen bottle were its design, its versatility (because there are different sizes and caps that you can use interchangeably), and its availability through Amazon Prime. Yes, I wanted it as fast as possible. If you are in the United States, I would definitely also check out Liberty Bottleworks. Their bottles are made from recycled materials in the US.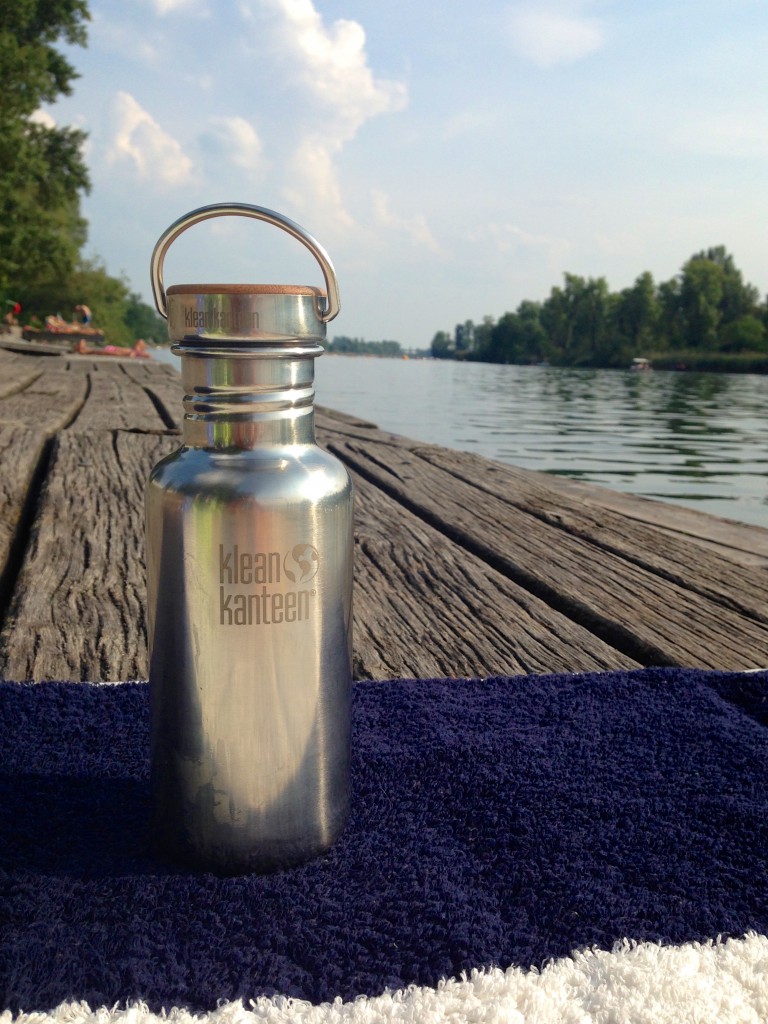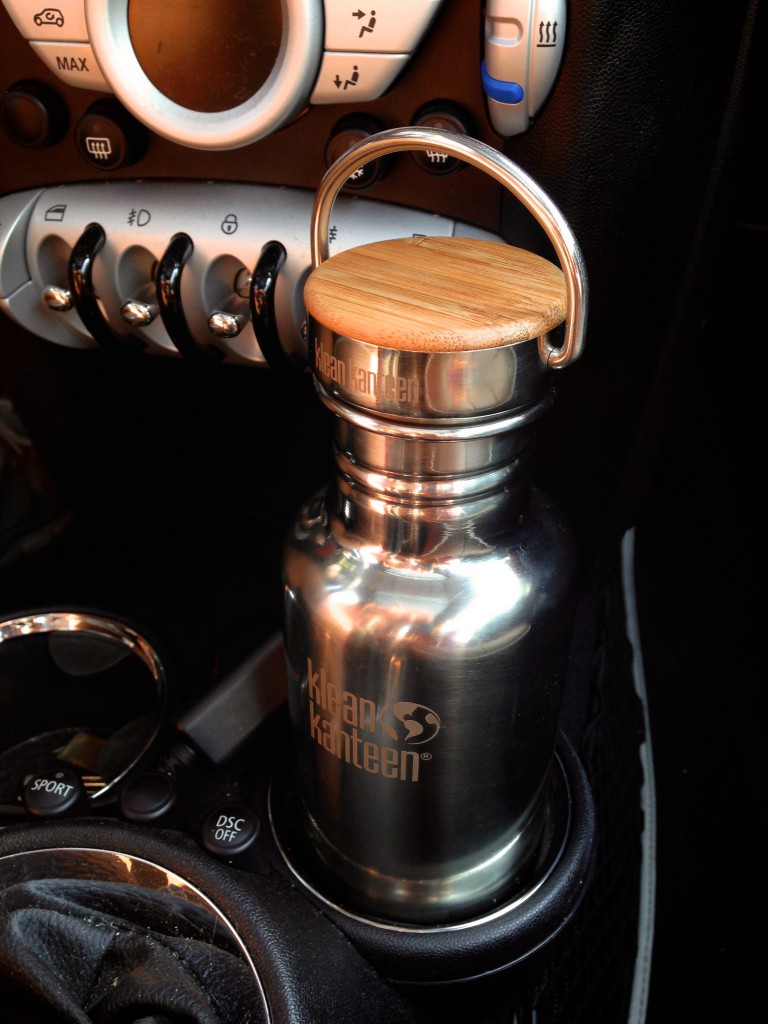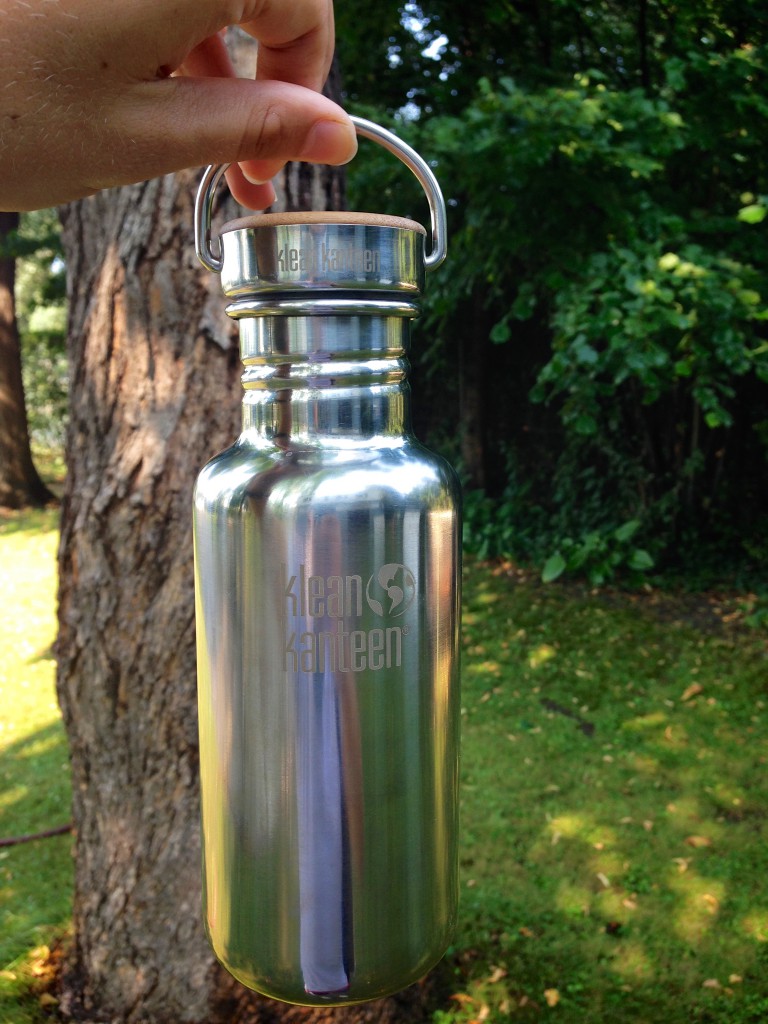 I also have a few more general tips on how to use less plastic in your life:
Use reusable shopping bags. I always carry fabric shopping bags with me whenever I leave the house. You never know when you might need them. Before I started doing that, I always had boxes full of plastic bags I didn't know what to do with. Fabric shopping bags are not just environmentally friendly, but also much sturdier and nicer to carry around. I am also planning on buying cotton bags for vegetables and fruits (this one, for example). Thankfully, the grocery store of our choice usually has paper bags, but having reusable ones would definitely be more sustainable.
Drink tap water, unless it is unhealthy. Thankfully, we have really high-quality water from the mountains here in Vienna. I like using a glass bottle around the apartment or whenever I am traveling in the car (instead of a plastic bottle or a glass of water). Since I work from home, usually in front of the computer, I don't want to risk knocking over a glass and breaking my computer (sadly, it has happened before). Moreover, I feel like having a big water bottle with me all the time helps me stay hydrated. My husband and I both love our Soulbottles. We have two, one with motivational sayings on it, and one with a kitten that my husband got from our furry babies for his first Father's Day.
Use glass containers. We store all our left-over food in glass containers. We have two kinds in various sizes: Wean Green containers, which we use for cat food (yes, my husband makes home-made cat food for our boys) and anything we put in the freezer more generally; and WMF Airtight containers with a vacuum lid for left-over food to be stored in the fridge. We have even started bringing our own containers for leftovers when we visit our respective parents. Lastly, we also have a Thermos food jar for bringing warm food with us (to work or regattas, for example) and I am looking into buying my husband a stainless steel lunch box in the near future. If you are in Austria or in Europe, Beechange has great options. I have also recently found Lapland Eco Store from Sweden (but have not ordered from them yet) and they have a wonderful selection of all kinds of eco-friendly items, including Wean Green containers.
Buy kitchen tools made from glass or wood. Of course, I am not encouraging you to throw out perfectly good utensils and spend a fortune on replacing all of them at once, but if something breaks, consider replacing it with a non-plastic alternative. We luckily inherited around 15 cooking spoons from my late great-aunt, but we have also actively replaced our cutting boards, measuring cups and bowls, as well as our storage containers, as mentioned above, with ones made from wood or glass, respectively, since moving back to Vienna.
Be creative. I am sure you can come up with many great ideas on how to reuse, recycle, and reduce plastic use in everyday life.