I recently went to Toronto for a conference and wanted to share a few restaurant suggestions with you. Had I known I was going to start this blog, I would have taken more and better photographs. Sorry! Whenever I travel, I do research on vegan or vegan-friendly restaurants ahead of time in order to avoid not being able to find anything to eat. Even before becoming a vegan, I absolutely disliked not knowing what to expect at restaurants and which ones to choose in the first place. Usually, I start with creating a "trip" list in the Happy Cow App on my phone. If you know where you'll be spending most of your time in a city — in the case of my trip to Toronto, I was searching for restaurants around the conference location, as well as the hotel — the map view is especially helpful. Having recently traveled to not-so-vegan-friendly cities in Asia and South Africa, I was pleasantly surprised to see that there were at least eleven vegan and vegan-friendly restaurants within walking distance (for me, it is about 30 minutes because I generally prefer walking to taking public transportation, especially when I can do sightseeing at the same time) of the conference venue. After identifying interesting places, I like to take a screen shot of the entry on Happy Cow, including the map, so I have all the necessary information available for offline-use, as well as go to the website of each restaurant to have a look at the menu and double check the opening hours. Since we also spent time with our friends in Toronto, we didn't always go to restaurants listed in the app, but I found that most places had vegan options and that the waiters were generally very knowledgeable on which foods are vegan and which ones are not. Once friends and I went to an Italian restaurant in Vienna and the waiter's response to my question if the pasta was vegan was "I am sorry, I don't know about that. I am catholic." What?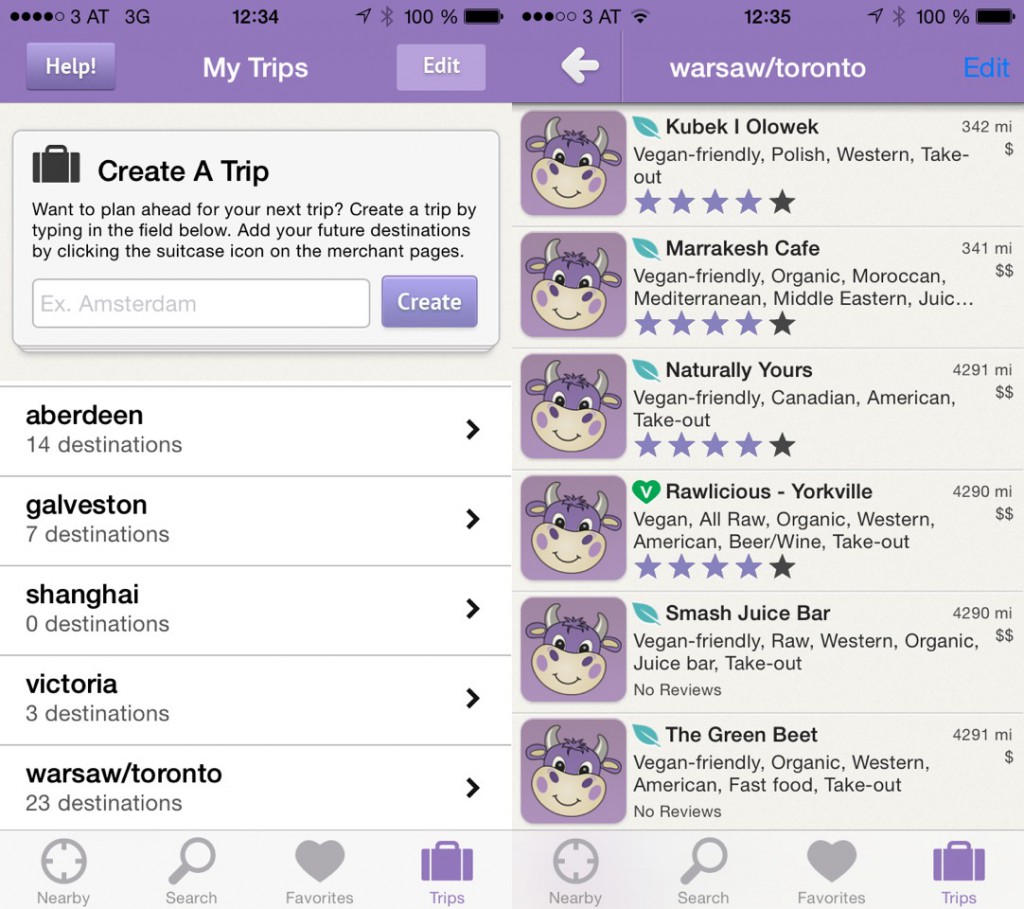 Live Organic Food Bar
This wonderful raw vegan restaurant is very close to the Dupont subway station (on the Younge-University Line) and is committed to serving local and organic food. From the outside, it looks fairly small, but has the most wonderful and peaceful outdoor seating area in the back. Since it was a hot late-July day, we enjoyed eating outdoors. There were so many delicious options on the menu that both my mother and I had a really hard time deciding. Even the drink menu was four pages long and, in addition to lemonades, tea, beer and wine, featured a large variety of smoothies, juices and booster shots, each of which could be ordered with all kinds of optional add-ons from acerola cherry vitamin C to vitamineral greens. While my mother had an iced strawberry kombucha tea, I had the "Fairy Dust" spritz with freshly squeezed orange juice, lemon, ginger, anise and hibiscus flowers. We both enjoyed them very much. As a starter, we both had a small salad. My mother ordered the "Alkaline"salad with mixed greens, kale, sweet potato, daikon, avocado, olives, spicy almonds, hemp seeds, micro greens and umeboshi dressing. I didn't try it because I am sometimes allergic to avocado (very strange, I know), but was told that it was extremely delicious. My "Kale Caesar" with kale, mixed greens, sundried tomatos, coconut "bacon," cashew hemp "parmesan," almond "parmesan," micro greens and caesar dressing was probably the most delicious salad I've ever eaten in my whole life. I am serious; if I were only allowed to eat one dish for the rest of my life, this would be my choice. As mentioned in a previous post, I can't pass judgment on its "authenticity" because I've never had a non-vegan caesar salad, but it was heavenly and I've been trying to recreate it (sadly unsuccessfully) since returning home. The main course was equally delicious. We both shared a pizza with a veggie almond crust, red pepper marinara, arugula, tomatos, black olives, artichokes, cashew "feta" and almond "parmesan." My mother is not the biggest fan of olives, but I just loved the combination of olives and artichokes, two of my favorite foods, and the freshness and crispness of arugula. Additionally, I had a delicious falafel wrap, made with sunflower falafels, smoked carrot hummus, cauliflower and kale tabouli, cucumbers, tomatos, pickled onions, micro greens, tahini sauce and za'atar oil. Unfortunately, we were too full to order desert, but we bought their cocoa almond squares at an organic supermarket a few days later and loved them. All the dishes we tried were so well put together and tasted really fresh. The waiter was friendly and regularly checked up on us, except when we wanted to get the bill because we were already running a bit late. Most main courses were $15 or $16, which I think is quite reasonable for raw food made from high-quality ingredients.
Live Organic Food Bar
264 Dupont Street
Toronto ON M5R 1V7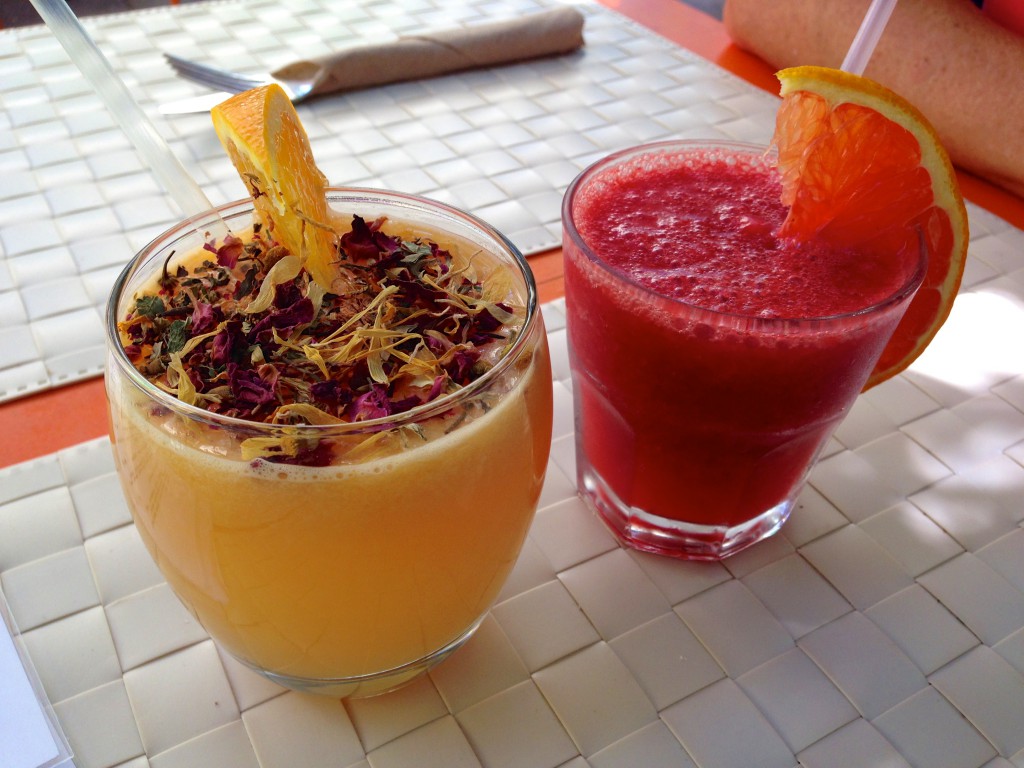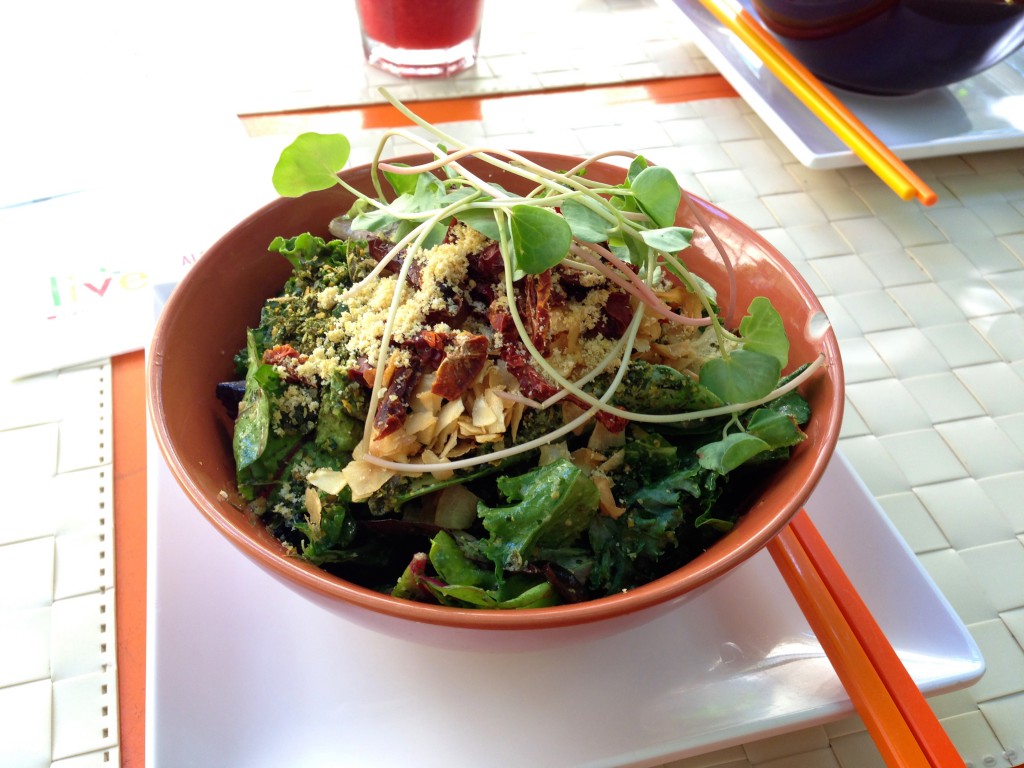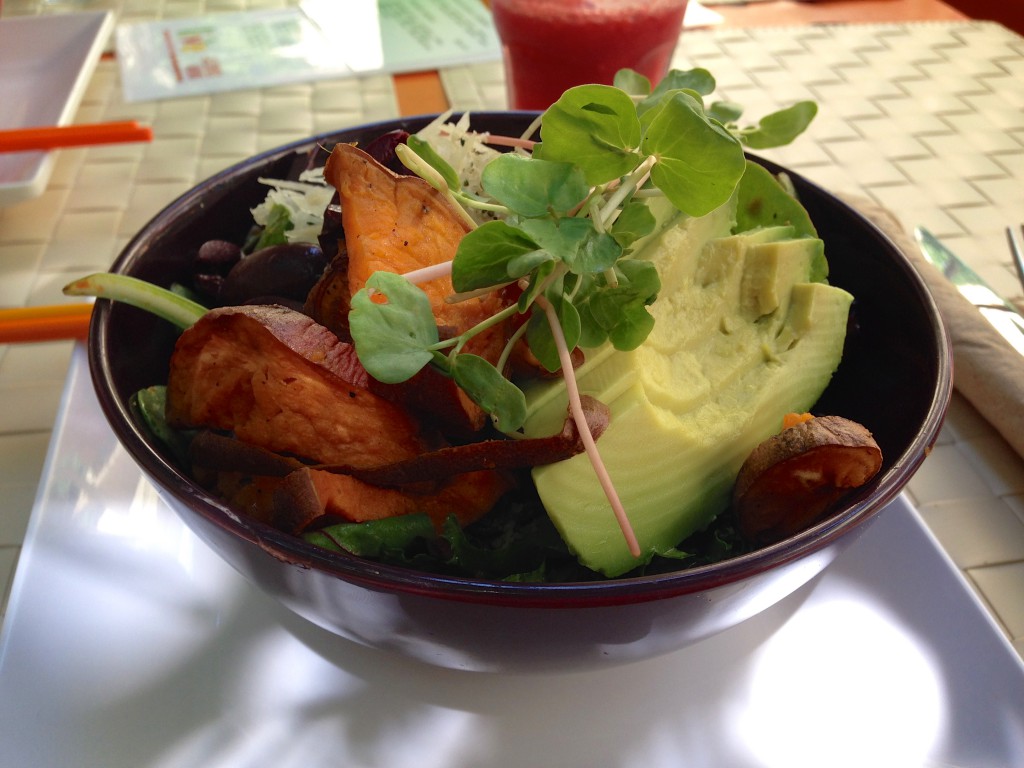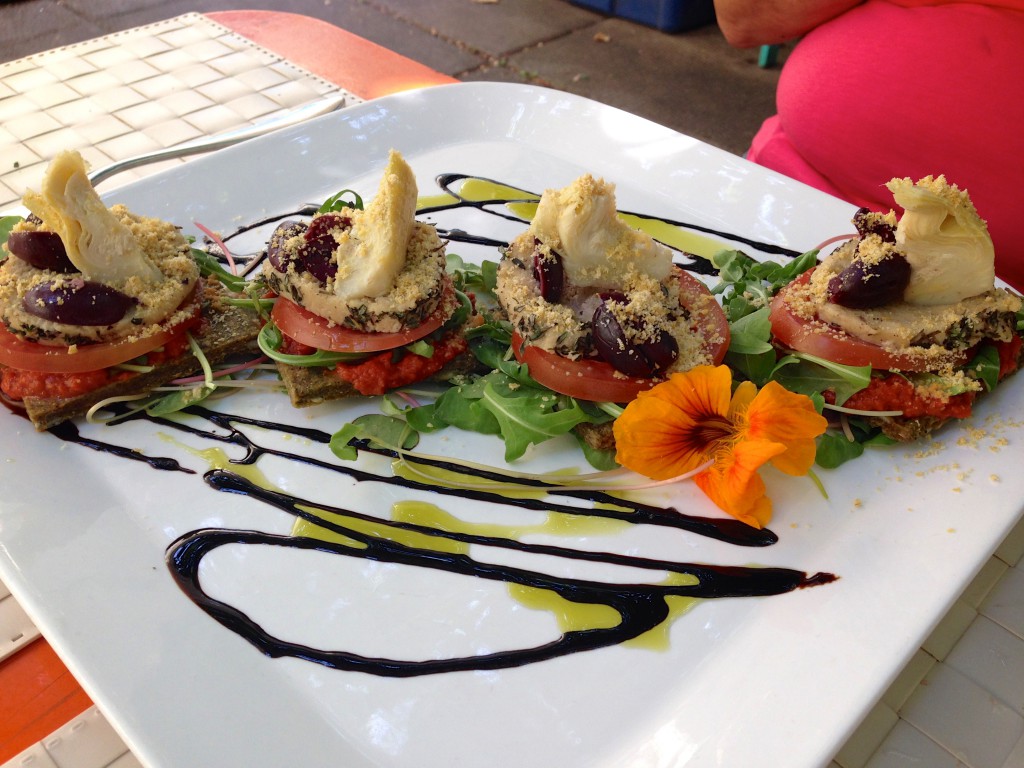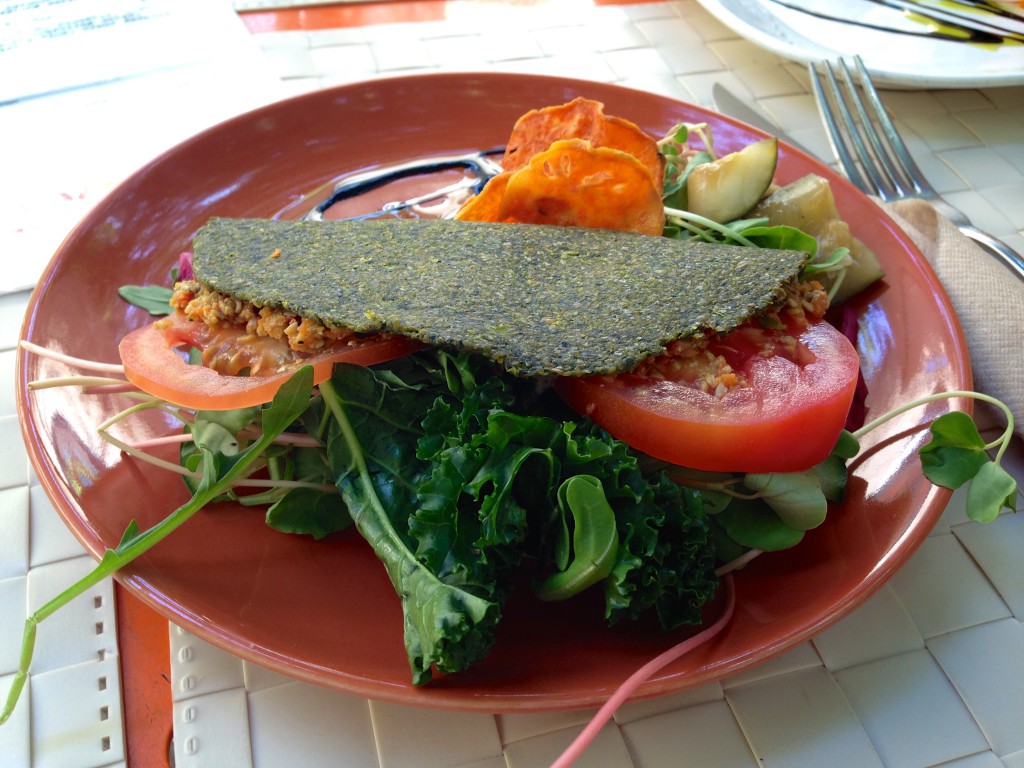 Fresh on Bloor
We walked into Fresh by accident. On our way to a restaurant I had found through Happy Cow, I suddenly stopped in front of a logo that looked familiar. I had been to Fresh in Moscow with my father last year, but wasn't aware that it was a chain, let alone one with locations outside of Russia. Fresh was the first vegan restaurant I was madly in love with because I just loved how healthy the food was. There were so many delicious smoothies to choose from and the menu explained the health benefits of all major ingredients. Of course, the restaurant in Toronto was a bit different from the one in Moscow, but the concept was quite similar. In addition to a great selection of smoothie, juices and shots, all with optional superfood boosts, they had all kinds of salads, wraps, tacos, burgers and bowls with either rice or noodles. I missed the nutrition information they had on the menu in Moscow, but I feel like the selection was much larger in Toronto. The atmosphere was definitely more casual, perhaps targeted towards students, than in Moscow, but the food was equally delicious. Unfortunately, I can't remember which smoothies we had, but they were both delicious. We didn't order starters because we weren't as hungry as the day before when we went to Live, and I wasn't even able to finish my main course, a full-sized green goddess bowl, steamed greens and broccoli with grilled tempeh, pickled ginger, toasted sunflower seeds, tahini sauce, and a toasted nori and ginger tamari sauce on brown rice, because the portion was so big. I really liked the combination of tempeh, pickled ginger and nori, but I wouldn't have minded a bit more tempeh, especially considering how much rice was served with the vegetables. My mother ordered the wrap of the day, so sadly I don't know the exact ingredients, but I believe it contained beans or chickpeas. Fresh definitely has a large selection for drinks, starters and main courses and the prices are reasonable, especially considering the large portion sizes. Main courses cost between $11 and $17 and even though the atmosphere is not as friendly as it is at the restaurant in Moscow, I would certainly recommend it for a casual meal. There are four locations in Toronto.
Fresh on Bloor
326 Bloor St W
Toronto ON M5S 1W5
Urban Herbivore at Eaton Center
As a tourist in Toronto, it is very likely you'll find yourself in Eaton Center's "shopping jungle." After browsing the shops there for a few hours around noon, we suddenly realized that our stomachs had already started rumbling. When I get really, really hungry, I usually have to find food fast, so I decided to do a quick Google search if there were any vegan options for me at the food court and was very surprised to find Urban Herbivore. Even though I am usually not the biggest fan of the food court atmosphere, I really appreciated being able to grab a quick bite at the mall. It must be very convenient for the people working in the area as well. We ordered two smoothies and two sandwiches, which we shared. In my opinion, the Chipotle Tofu sandwich with tomatos, pickled cucumbers, alfalfa, romaine lettuce and tahini was slightly better than the Hoisin Ginger Tempeh sandwich with kimchi, carrots, romaine lettuce, aioli and hoisin sauce because it was juicier and contained a bit more "meat," but both were delicious. The sandwiches tasted really fresh, but, to my taste, contained a bit too much lettuce at the expense of other ingredients. However, I am not the biggest fan of crunchy salad in general, so I am probably not the best person to judge the right lettuce content of a sandwich. Unfortunately, I didn't take pictures at all because of the bad lighting at the food court. Especially the large selection of cupcakes would have deserved one. There are no prices listed on the website, but as far as I remember, we paid between $20 and $30 for everything. There are three locations in Toronto.
Urban Herbivore at Eaton Center
220 Yonge St
Toronto ON M5B 2H1