Training
This week was quite frustrating to be honest, which is why I put off writing about it for more than a week. As the week progressed, I got more and more exhausted and my whole body started aching. In addition to not being able to do most intense workouts that were on my workout plan, I couldn't concentrate when I was working and had the worst nightmares in quite a while. I tried everything to recover as quickly as possible, even taking days off work and eating as healthily as possible. Nothing has really worked so far, but I am hoping to get better quickly now that my stress-levels are a bit lower.
Like most weeks, I had a rest day on Monday, which I really needed after our "exhausting" recovery week.
On Tuesday, Tina and I were finally able to do our first workout of the year in the double. Even though we were supposed to do intervals, we decided it was better to take a bit of time to get used to the boat and do various technique drills that we also like to do in the quad. Overall, we were quite happy with our performance even though we still need to work a bit on synchronization. Most notably, we felt like the drive was significantly more dynamic and powerful than last year. I guess it would have been strange if our legs hadn't gotten stronger during the winter since we'd spent a lot of time in the weight room.
On Wednesday, I was supposed to do a 15-minute test, but had to give up twice half-way because of a stinging pain in my heels, which I've had for almost 3 weeks now. Somehow, it doesn't hurt as much in the boat and there are certainly days when I can walk and run normally. After the failed test attempt, I tried to do a few rounds of crossfit exercises, but wasn't able to do some of the ones that put too much strain on my feet. Sadly, I was really frustrated and discouraged even though the lacatae threshold test a few days prior had gone really well and should have been a wonderful confidence boost. I even briefly considered ending my "career" once again because of how awful I felt.
Since I kept feeling worse, I decided to take Thursday off.
On Friday, Tina and I were planning on doing another workout in the double, but it was really windy and we couldn't really motivate ourselves to train outside. Therefore, we decided to give the good old erg a bit of love, but it didn't go well for me at all. I wasn't even able to do half the intervals I was supposed to because once again, I got a really terrible headache even though my splits weren't even particularly good. After about half an hour, I switched to the indoor bike because I felt too exhausted to continue rowing on the erg. Needless to say, I was extremely frustrated.
On Saturday, I decided that I'd neglected my single far too long and took it out for a 12km workout on the water. Even though it was quite exhausting, I really enjoyed it. It was mostly a steady-state workout with a few technique drills to keep the workout interesting. The boat was still a bit unstable in the water, but it was my first workout of the year in the single, so I shouldn't be too harsh with myself.
Finally, on Sunday, it was time for our weekly workout in the quad with Eva and Andrea. It is funny because at first, we were reluctant to commit to the quad, simply because we were afraid we wouldn't have enough time for practices in the double, but it's become our highlight of the week. We never thought it could be so enjoyable, easy (in the sense that we work so well together that there is continuous improvement), and fun. To be completely honest, I can't remember if we had to do intervals, but it was a longer session, for sure. We also always do technique drills because they are so much fun when they work well.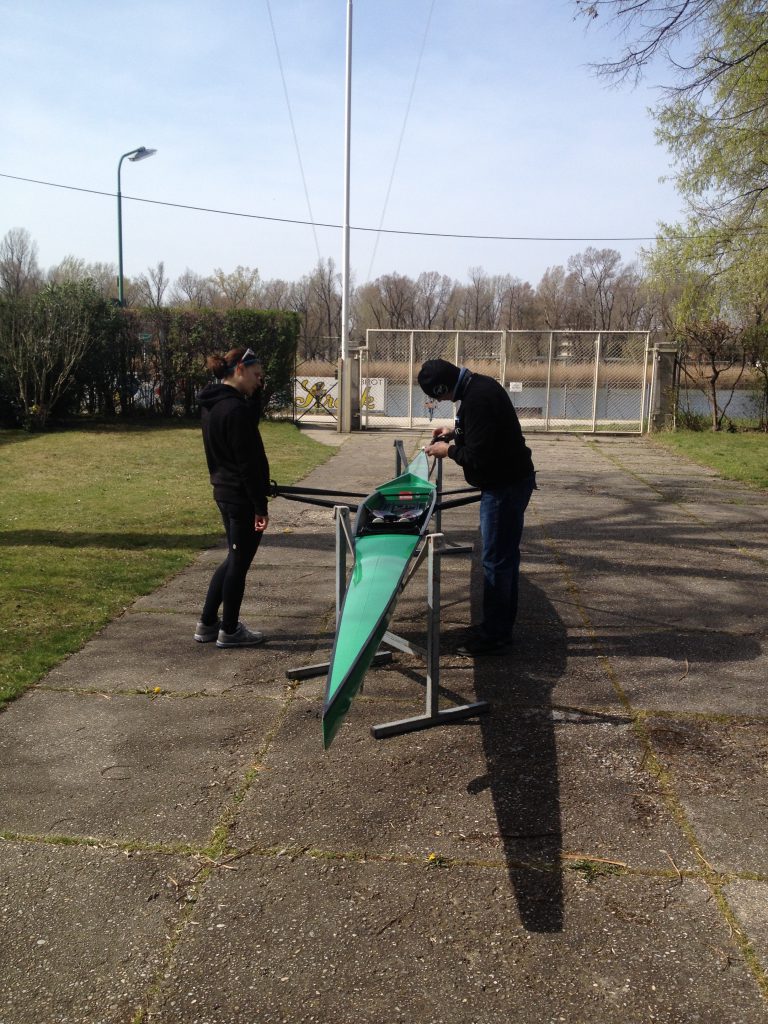 Nutrition
As mentioned above, I tried everything I could think of to recover as quickly as possible, but it wasn't a successful as I would have hoped. I made a smoothie bowl for breakfast almost everyday, which gave me a little bit of energy in the morning. I also tried using different kinds of pasta in order not to eat the same kind of noodles too often. Since I've been so lethargic recently, I haven't really been motivated to try out new recipes or cook more time-consuming recipes, especially for lunch, so I've had pasta at least a few days a week. In order to mix things up a little bit, I've tried pasta made from mung beans, for example. I must say, the taste is a bit unusual, but you get used to it. Haha.