Training
After enjoying a rest day on Monday, I was happy to be back in the double on Tuesday. Tina and I decided that it was best to not start with high-intensity intervals right away, but get used to slightly higher stroke rates (in the 24-28 range) first. Last season, we noticed that because we were doing so many intense intervals, we weren't paying enough attention to a clean technique. When you are tired constantly, your brain often doesn't have the capacity to focus on, for example, correcting a mistake you're making or being completely in sync with your partner. Therefore, we've been doing slightly less intense aerobic threshold intervals and have been quite happy with our improvements.
On Wednesday, I was supposed to do intervals, but I was so tired, I could barely force myself to run for an hour. Thankfully, I was able to persuade Herbert to come with me, which helped a lot. He usually doesn't like to talk, so I always have to find a topic he's really interested in. Challenge accepted. Haha.
On Thursday, I managed to force myself to do intervals, primarily because Tina and I did the day's workout in the double and it's always easier to to something when you're not on your own. We were supposed to do ten 300m intervals, but we were happy we were able to complete 8. I think we were both, for some reason, really exhausted. Afterwards, we treated ourself to a quick workout in the weight room. It consisted of four rounds of 20 slow heavy russian twists, 40 seconds handstand hold, 8 strict toes to bars, 6 drop jumps and 15 resistance band push ups, which we thoroughly enjoyed, more than the intervals in any case. Haha.
On Fridays, I am attending a Foreign Policy seminar until early June, so I usually don't have time to work out at the club. Therefore, I often just do a quick ride on my indoor bike in order to save myself from getting stressed out more than necessary.
On Saturday, we had our weekly workout in the quad, which we really enjoyed, as usual. The weather conditions weren't great, but we were quite happy with the anaerobic intervals we did at different stroke rates. It is surprising that it is possible to see so much improvement from one interval to the next. We're certainly not complaining. Haha. Even the square blade rowing drills weren't bad considering that it was quite windy. Sometimes we like to joke that because the boat is more stable and the strokes more harmonious when we don't feather the blades, we should race with square blades. It would certainly be an interesting experience.
On Sunday, we flew to Bergen, Norway, to visit our good friend Veronika, who was Herbert's groomswoman at our wedding. Since we were traveling half the day, I decided to take a rest day. Our flights were both quite enjoyable and we had a good view of the Norwegian landscape from the plane. In the evening, we walked around town a little bit and Veronika dragged us up one of the mountains surrounding Bergen. Even though the hike was quite exhausting, especially considering how tired I'd been recently, we all really enjoyed the nice view from the top, as well as the peaceful atmosphere right before sunset. It also counts as a mini workout, right?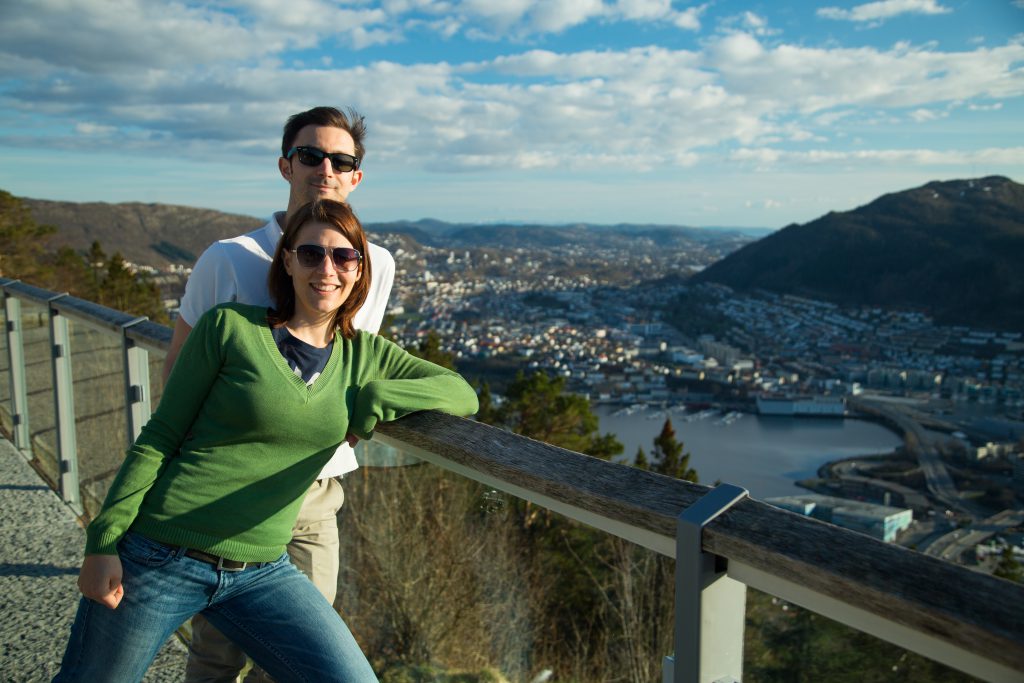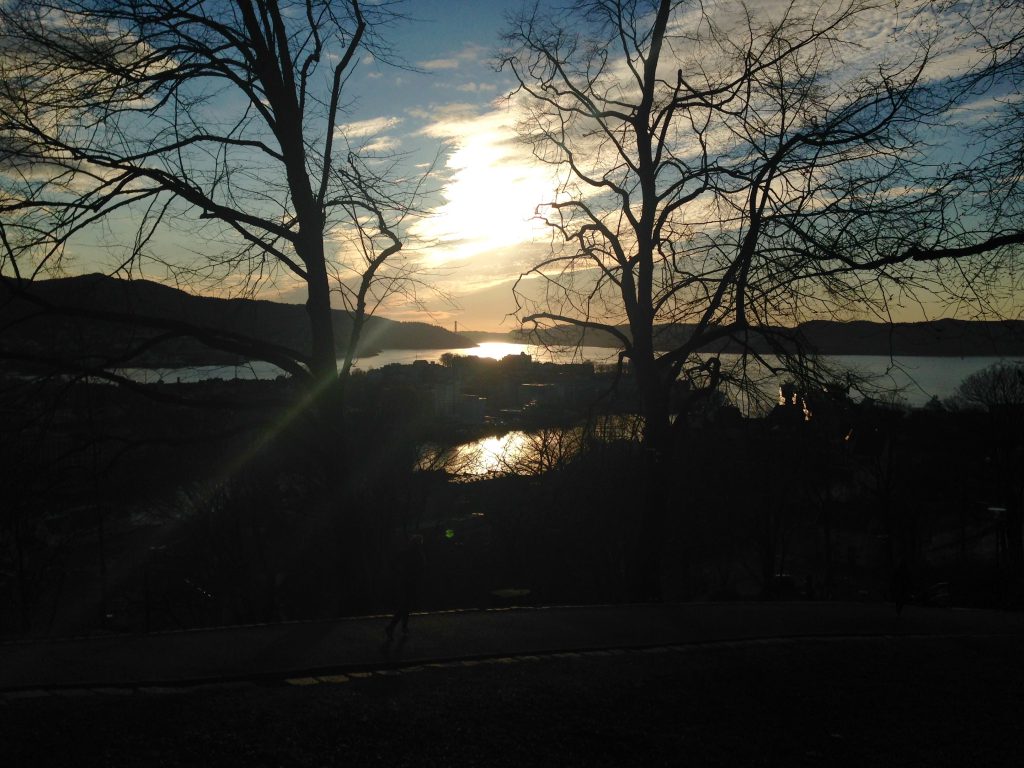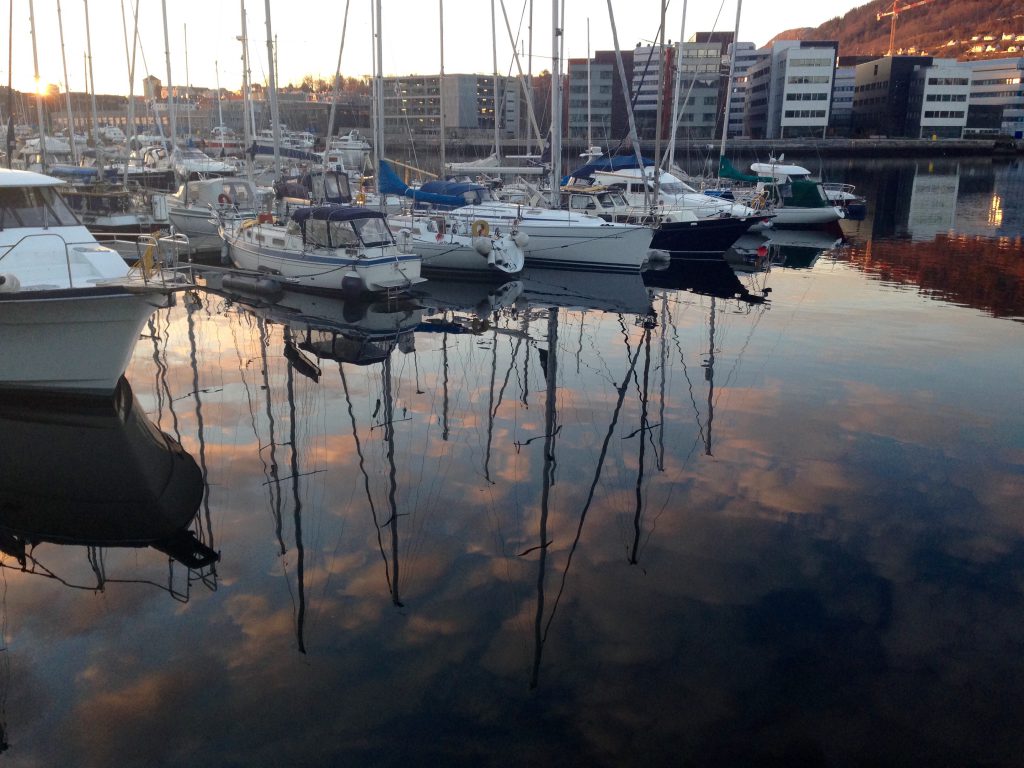 Nutrition
Bergen is not particularly vegan-friendly, as is Norway in general, according to Veronika. I'd found a handful of restaurants with a few vegan options on Happy Cow, but we decided it would be easier to mostly cook at home, unless we were out and about. I will talk a little bit more about my culinary experience in Norway in next week's "week-in-rieview" post, but I just wanted to mention that, as usual, I brought some snacks and vegan essentials on the trip with me. I didn't realize until the day before the flight that there wouldn't actually be a lounge at the domestic terminal in Oslo, so I didn't have time (and energy, to be honest) to prepare lunch in advance. I just took a few bananas from the lounge in Vienna and ate them while we were waiting for our luggage in Oslo (because of very strict customs regulations, you have to pick up your luggage and present it to Norwegian customs before re-checking it at the regular check-in counter). Additionally, I ate the crackers "served" on Austrian flights, which are also vegan (not certified, but as far as I can tell from the list of ingredients, they should not contain any animal products). When we got to our friend's apartment, we had bread with different plant-based spreads we'd brought with us. It is always important to be prepared. Haha.