Training
This past week was all about preparing for the Vienna Rowing Challenge, a 4k race Tina and I participated in in the double… and drinking a lot of matcha. Except for the weekend, the weather was quite ghastly, which I would say is quite unusual for early May. In fact, it is raining quite heavily while I am writing this, and I am wondering if it will be nice outside for more than one or two days in a row any time soon. It is quite challenging to firstly force yourself to get in the boat and secondly go through with an exhausting workout when it is windy and cold. It certainly doesn't feel like late spring and it's supposed to get even colder next week. One of the Austrian tabloids even wrote that it might get colder than it was at around christmas. Urgh…
After taking a rest day on Monday, Tina and I forced ourselves to do intervals in the boat on Tuesday even though it was really windy. It wasn't great, but at least we went through with what was on our workout plan. To be honest, considering that the weather conditions were so bad, we did ok, and even had some great, synchronized strokes when we were going at a steady-state pace. After about 50 minutes in the boat, in which we did eight 250m intervals, we spent another 20 minutes in the weight room. We did six rounds each of 6 back squats and 10 high jumps and 6 deadlifts and 6 broad jumps. Interestingly, my legs were so sore after the workout that I couldn't even walk properly. It was quite funny when we were at our weekly salsa dance class on Wednesday because I kept telling Herbert which steps hurt the least. When your muscles are sore, as a general rule, cuban style hurts less than L.A. style. Haha.
On Wednesday, I was supposed to take the day off, but I felt a little bit antsy, which I sometimes do when I've spent the whole day reading academic literature. Therefore, I treated myself to a relaxing 30-minute steady-state indoor bike ride.
On Thursday, I should have done intervals, but I was still sore and quite tired, so I was only able to force myself to do a 60-minute steady-state run along the Danube. It was quite slow, but since I was barely able to move my legs, I was quite happy with my willpower to work out at all.
It might not have been the best idea to do intervals one day before the 4k regatta on Friday. However, somehow, it all turned out ok. Even though it was a little bit windy, we thoroughly enjoyed the workout in the double. Considering that the water wasn't flat at all, the boat was really stable. We even noticed real improvements from one 5-minute anaerobic threshold interval to the next. We did four intervals in total and spent 70 minutes in the boat.
I was really tired when I woke up on Saturday, the day of the regatta. Thankfully, as soon as we crossed the start line, I felt really energized. The race was exhausting, but it went really well until about 1000m before the finish line when suddenly a whole bundle (is that the right word?) of plants got stuck in our fin and our split went up by at least 10 seconds. We didn't know how to get rid of the weed without stopping and loosing even more time so we decided to keep going. It is quite frustrating, to be honest, when your legs are basically dead and you feel like you're pushing agains a brick wall. We didn't have any competition in our age group, but we would have wanted to do a bit better in comparison with our friends that are a little bit older. Our consolation is that we performed a lot better than last year and we would have been a bit faster without the "weed-brake" on. Haha.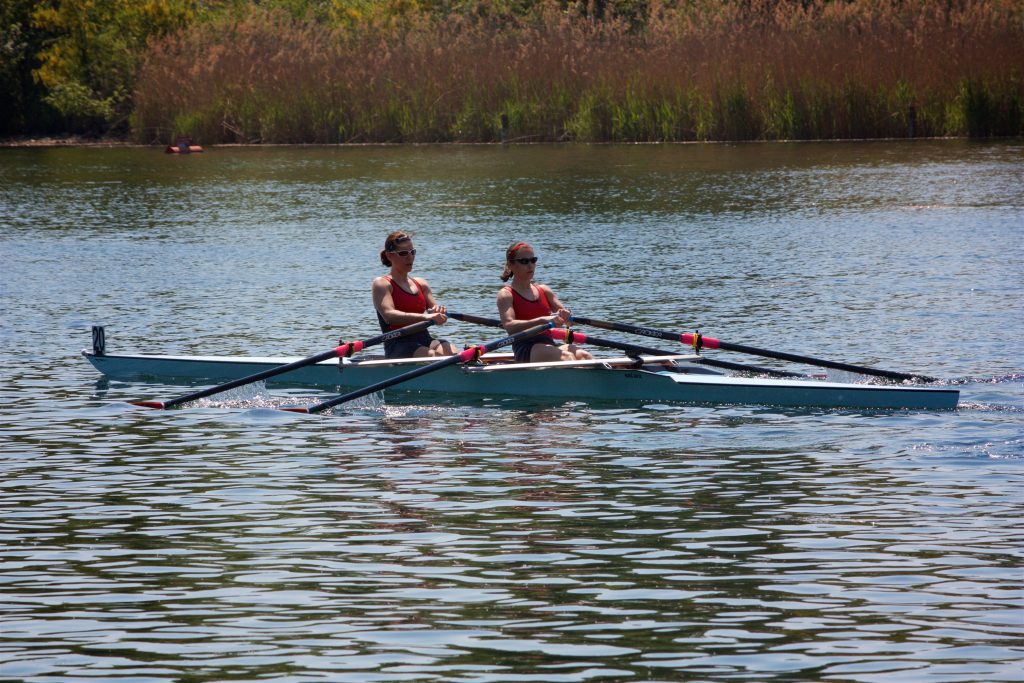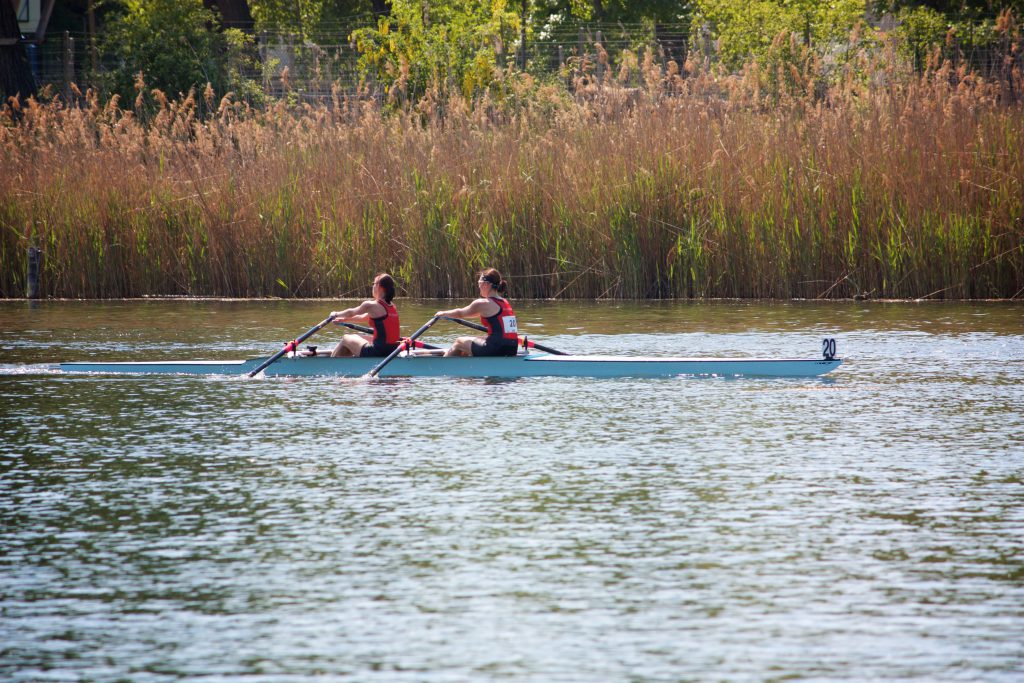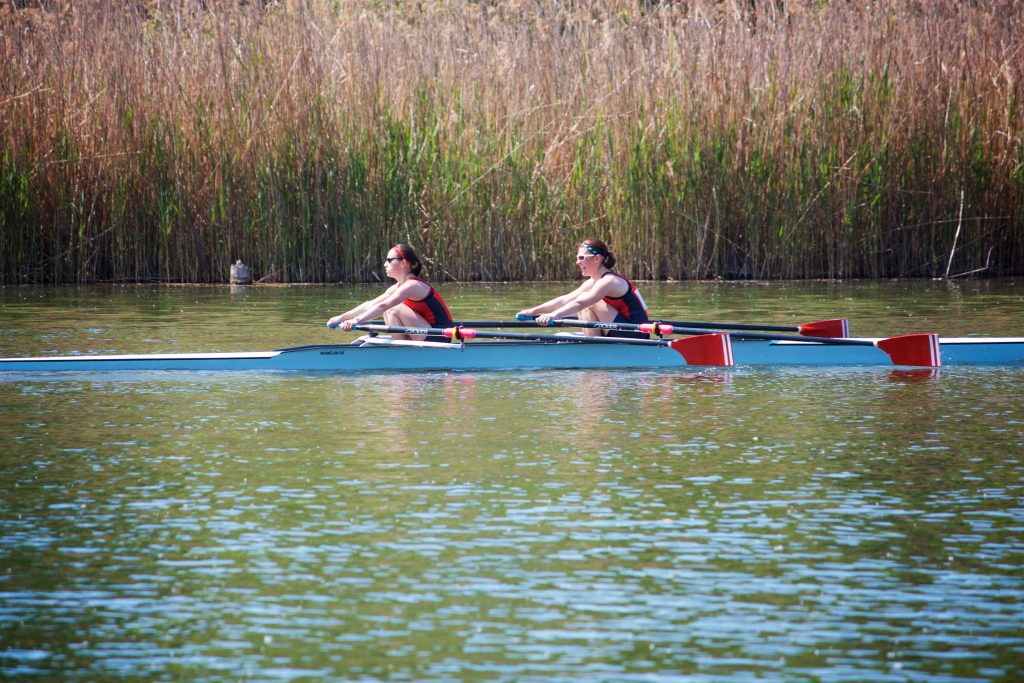 On Sunday, I had a fantastic 70-minute steady-state workout in the single. Again, I was supposed to do intervals, but I was quite tired from the regatta so I decided to not "kill" myself completely. I felt like my boat was really stable and my drive was very dynamic. It was only my second workout since Thomas lowered the oarlocks with a little plastic thing under my riggers (sadly, I don't know what it is called), and I must say I am in love with the new setting. For the first time, I feel really connected to my boat! I would say it is about time since I've had it for 10 years. After the workout, I spent mother's day with my grandmother because my mother was traveling. We went for a nice, slow walk (my granny is 90 after all) and then had delicious vegan muffins.
Nutrition
Since I am sure you're not interested in me going on about how addicted I am to matcha, I will try to write up a separate post about my suggestions for eating vegan on a budget, of which a very rough draft has been sitting in my "drafts" folder for at least half a year.