I can't believe I've waited so long to write this post because one should share fantastic news as soon as possible. Almost a month ago, I competed in the Traunsee Regatta in Gmunden, Upper Austria, which doubles as the Austrian Masters' Championships in certain boat classes, in the single, the double with Tina, the quad with Tina, Eva and Andrea, as well as the mixed quad with Tina, Gregor and Max (not our coach). It was a fantastic weekend for the club because we were able to win all races in our age classes, as well as two Championship titles, which usually means winning against boats in other age classes, with the older competitors getting a "time bonus."
We arrived in Gmunden in the late afternoon on the Friday before the regatta and the weather was glorious. It was extremely hot and the lake was calm, which, to be honest, rarely is the case. We rigged all our boats and I took my single for a spin before going for dinner with our team and rowers from Eva and Andrea's club (Argonauten) at a traditional Austrian restaurant. Even though I would have loved to dine at the restraurant "Goldener Hirsch" in downtown Gmunden because they have a wonderful selection of vegan dishes, I decided that it would be nice to spend time with the whole team. I contacted the restaurant in advance to ask if they would be able to make a vegan dish for me, which they said was possible. In the end, I left the dinner table hungry because my "veggie platter" wasn't very filling. Thankfully, I'd bought muffins from a bakery close to work and enjoyed those as a midnight snack. Next year, I'll probably be a party pooper and eat at the "Goldener Hirsch." Haha.
On Saturday, it was quite rainy and windy when we got up in the morning. Right after breakfast, we found out that the races would be postponed by at least 90 minutes, and I really wished I had known earlier so I could have slept a bit longer. Since weekends are extremely important for my recovery from my exhausting work-week, including getting up at around 6:30, I didn't feel particularly rested that morning. We stayed at the hotel a bit longer and then made our way to the regatta course, where we were able to "admire" the wind and the waves.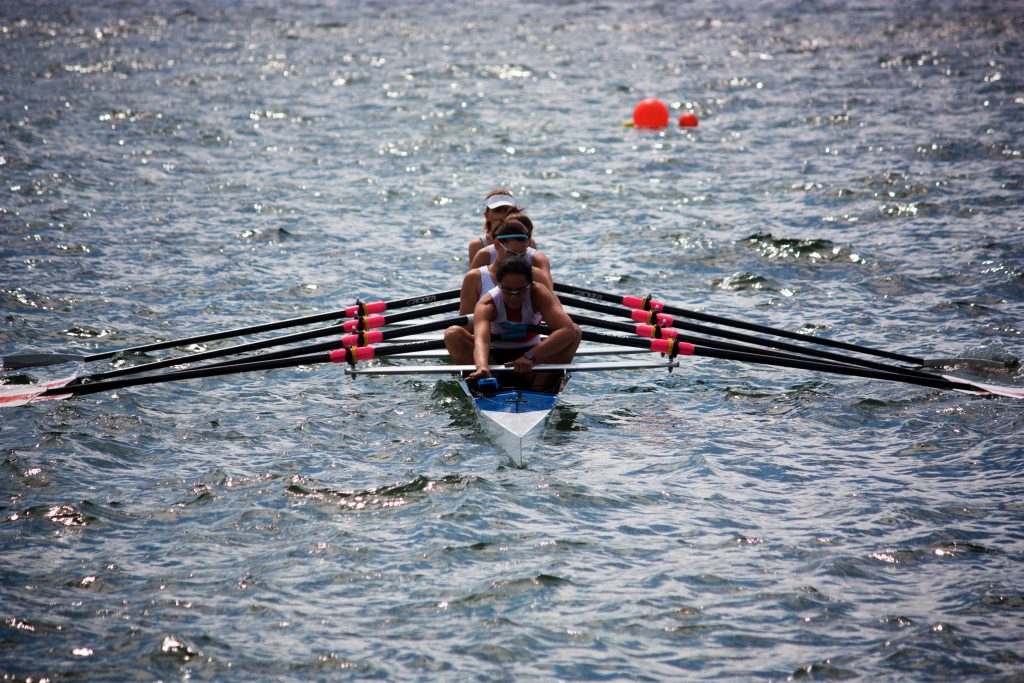 Our first race was in the quad (masters c/d) and once we were on the water, I really wished they'd postponed the regatta to the next day, Sunday. The water was so rough that we were drenched even before we got to the start. We could have easily taken part in a wet t-shirt contest. It was really challenging to focus on a clean technique or row at a high stroke rate, for that matter. As a result of the adverse weather conditions, we were slightly nervous before the race, but told ourselves that we had one major advantage: we'd trained together fairly regularly and all had a lot of experience in the boat. We decided to just remain calm and row at a lower stroke rate, while keeping up the power. Surprisingly, we went into the lead fairly quickly and made very few mistakes. Even though we weren't able to put the pedal to the metal, we were able to row home a clear victory and an Austrian championship title in the mastersnwomen's quad. Hurray.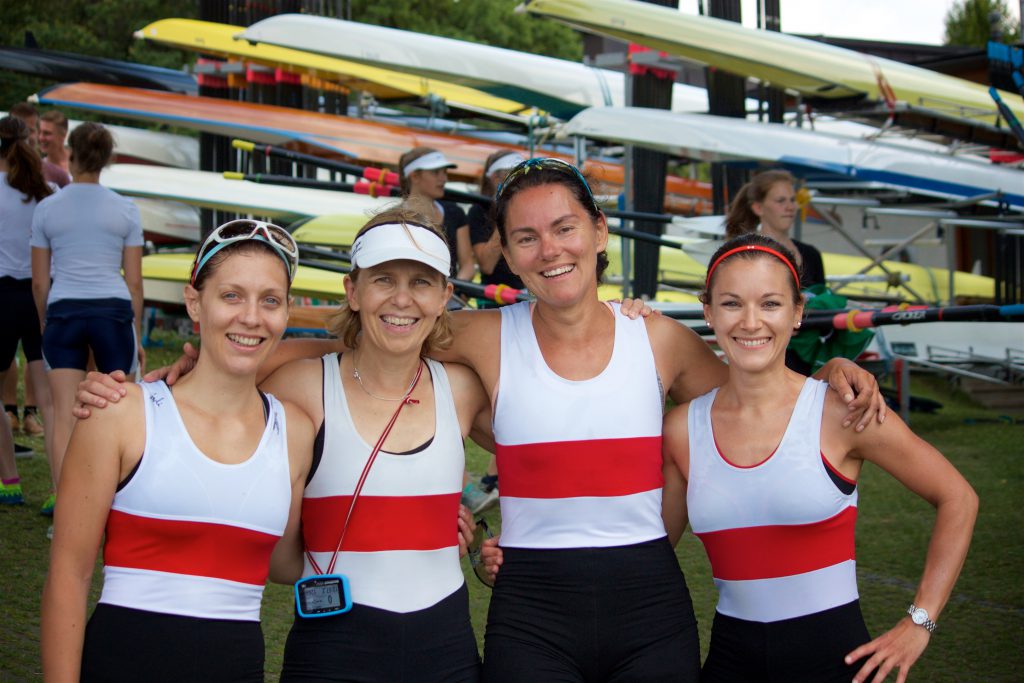 Our second race was in the double (masters a/b). Thankfully, the weather conditions had improved significantly by that point. The lake was by no means calm, but we were able to row without being showered with lake water. The race developed similarly to the one in the quad. We went into the lead after the start and won by a few boat lengths. My favorite picture is one of us high five-ing behind the finish line while the other crews still haven't finished the race. We were able to remain very synchronized throughout the race and always felt like we still had some energy and power reserves. It was still very challenging to maintain a good, clean technique, but, once again, we were able to "feed" off of our many kilometers together in the double. Since we didn't expect to win, even though of course we were hoping to perform well, we were exstatic about our second Austrian championship title of the day. The funny thing about the race was that even though we were in the lead the whole time, the commentator said that another club was. Afterwards, we thought it was hilarious because of how far ahead of the other boats we were.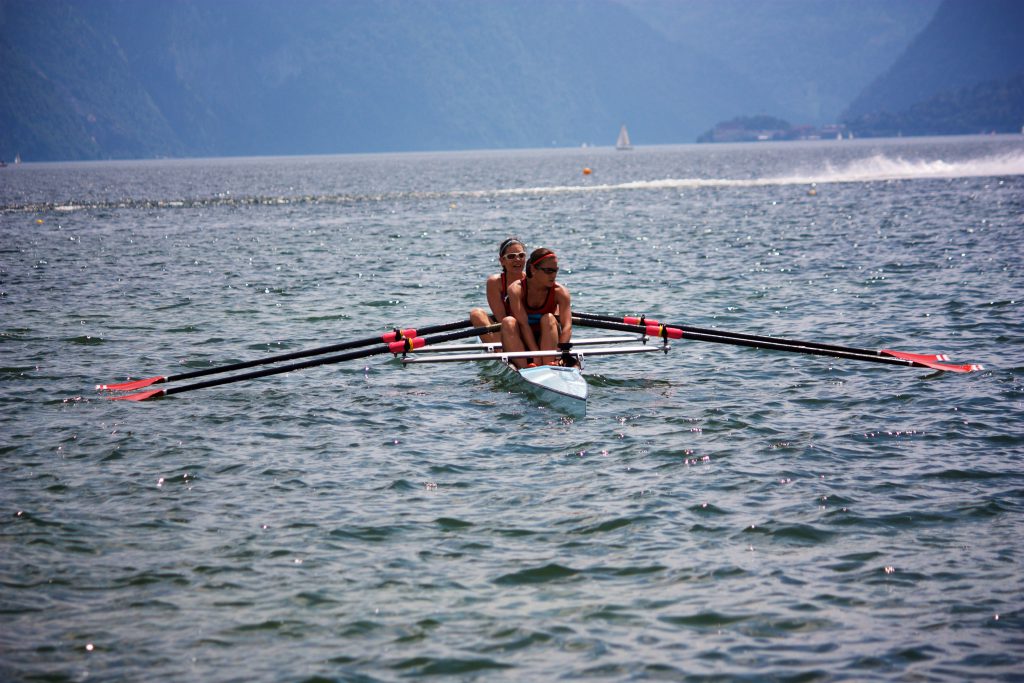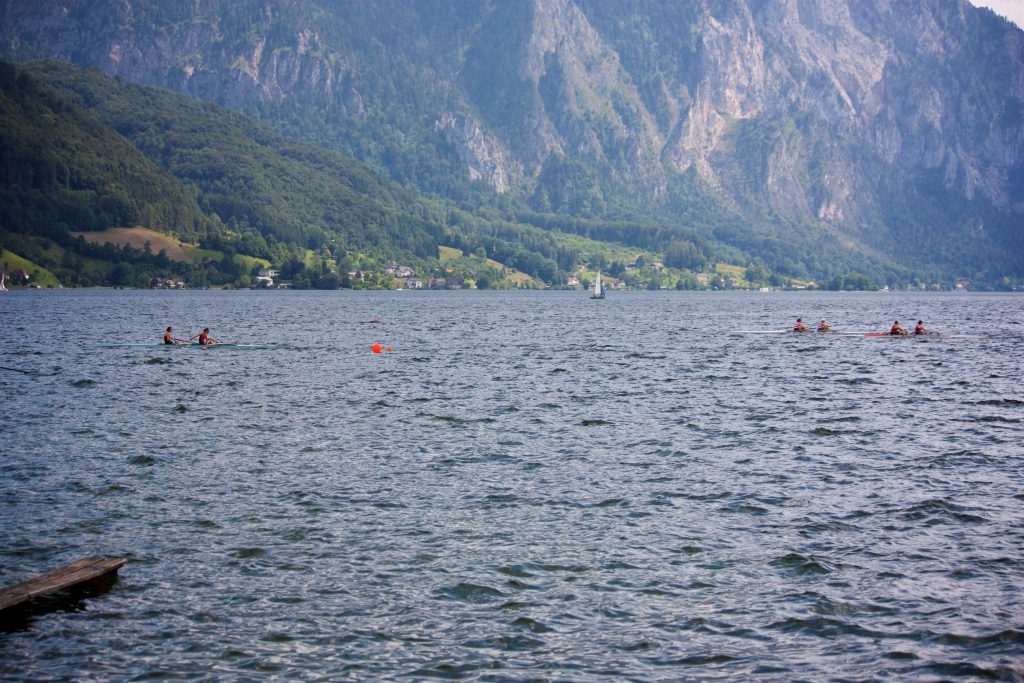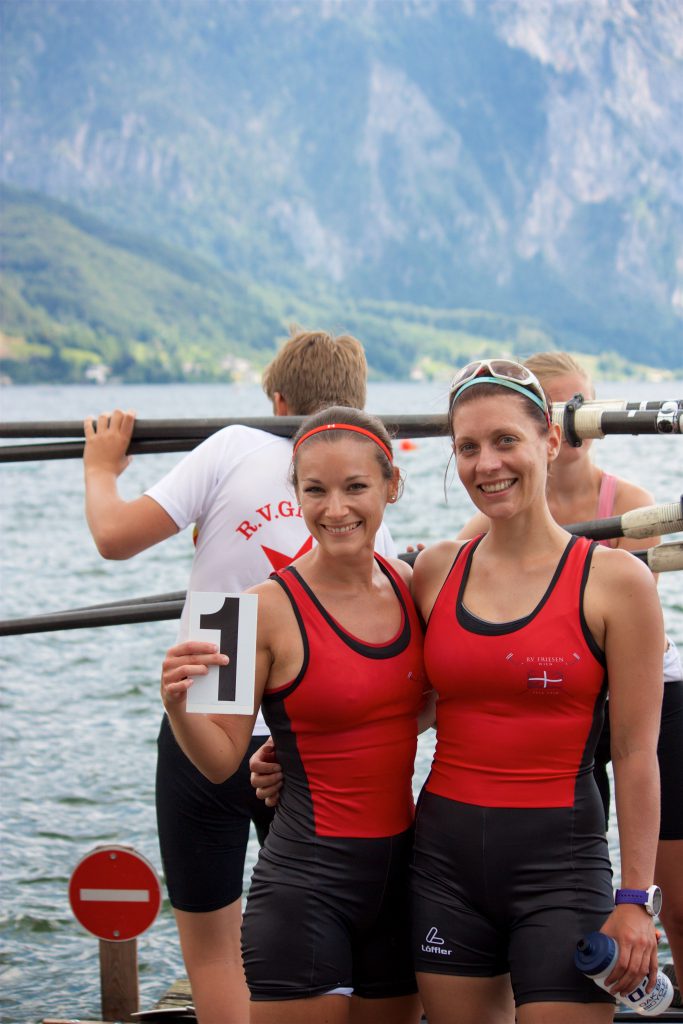 My third race, in the single, was really challenging because I was already extremely exhausted and didn't really expect to have a chance againt taller, more muscular opponents. Because of my opponents' "time bonus," I would have had to win by more than 12 seconds, which, to be honest, is not very realistic if your opponents are in a good shape. Retrospectively, I shouldn't have felt so hopeless and simply given my best. As a result, my first 750 meters were fairly slow and I didn't particularly feel comfortable in my boat. Basically, all I wanted to do was lie down and sleep a couple of days straight. However, about 250m before the finish line, I got a second wind and almost overtook the rower in second place. Even though I wasn't satisfied with the race because I could and should have fought harder, I am very happy with my sprint because I never used to be able to pull something like this off. People change! In the end, I won my age category (Masters A), which, however, wasn't hard because I was the only competitor. Haha.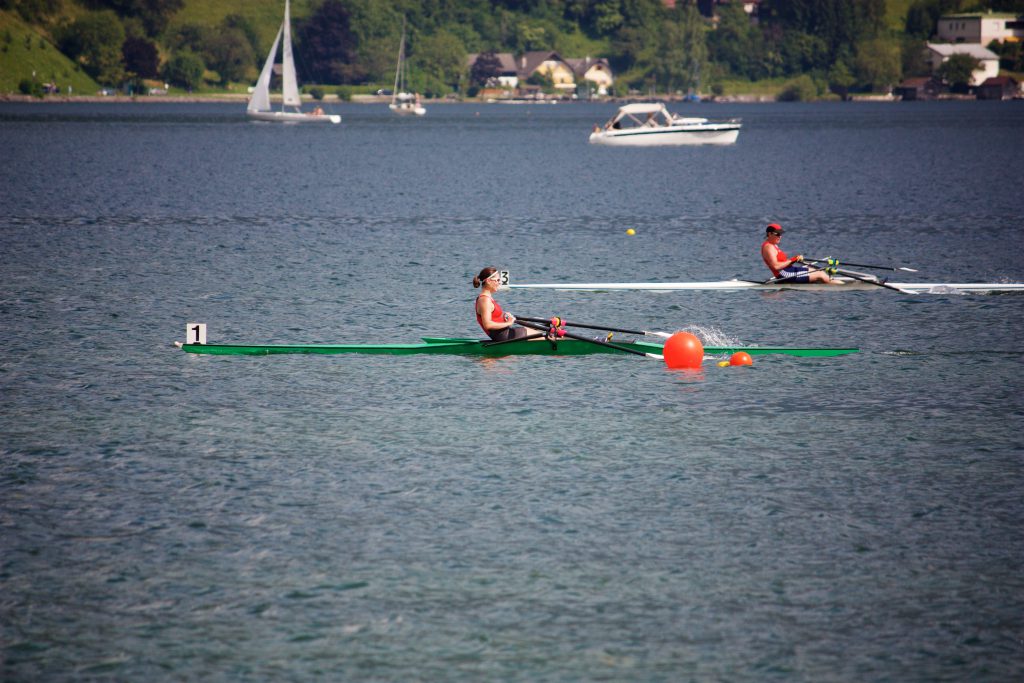 Our last race was in the mixed quad, which was very exciting and exhausting because we had to fight for our victory until the last second. Our race was surprisingly very good, unlike our one and only practice before the event. Our strokes were sychronized, at least judging by photographs and my subjective impression during the race, and there wasn't a single moment of weakness. It was basically a sprint from start to finish, at a stroke rate of around 38. We narrowly won the race, but didn't get an Austrian championship title because mixed races are not part of the championships, only the Traunsee Regatta.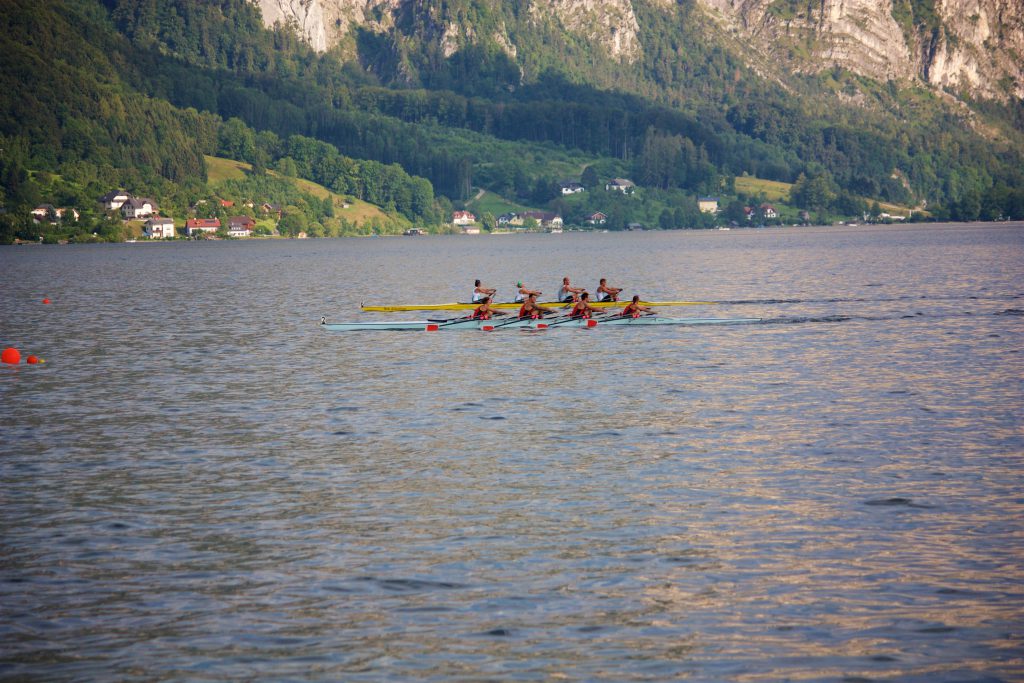 To sum up, the weekend gave us a lot of confidence and motivation to train even harder for next year's Championships, as well as international competitions. Unfortunately, I still haven't recovered fully from the strain of the regatta, so I am looking forward to my upcoming recovery week (hopefully).