Monday was the official start of our structured training with a professional workout plan written by our strength coach Max. Not being used to doing intervals and strength exercises regularly, as well as still being a bit jet-lagged from my recent business (conference) trip to Toronto, it was a challenging week for me. My muscles felt sorer each day and more than once, I had difficulties not walking like a robot. In addition to having one demanding practice a day, I also had to drive to Italy to pick up our new boat, which I will talk about in detail in a separate post. Now, I am very much looking forward to having a rest day tomorrow, Sunday.
On Monday, I did intervals on my stationary bike at home, followed by a set of abdominal and core strength exercises. Since we're in the middle of a heat wave in Austria, with average temperatures of around 35 degrees celsius, our office, where I usually work out when I am at home, reminded me of a sauna and after the workout, I had to wipe up a puddle of sweat underneath my bike. In order to save our hardwood floor, I am considering working out at the club more often, at least until temperatures cool down a bit. It is more motivating to work out with Tina in any case, but since she works full time, it isn't always possible. Even though I enjoy road biking, I am not sure I like doing intervals on the bike because unlike rowing, not all muscle groups are targeted (almost) equally. I am very proud of myself for completing the whole workout though because I thought about giving up and only doing half or two thirds the intervals I was supposed to do multiple times. The first four intervals were fairly good, but the other half was a terrible fight between the inner voice that kept wanting to stop and the one that wanted to fight. After the sixth interval, I was ready to throw up and after the eighth one, I almost fell off the bike. But I did it and that's all that counts. Tina always says "nothing comes from nothing" (von nichts kommt nichts). In the end, I was rewarded by a delicious dinner, spelt and tomato risotto, prepared by my dear husband.
On Tuesday, I did full body strength exercises in our hotel room in Trieste, Italy, where we picked up our new boat. It was even hotter than in Vienna, but I throughly enjoyed the workout, perhaps because I couldn't bring heavy weights with me in the car. Afterwards, we were able to find a nice vegetarian (mostly vegan) restaurant in the center of the city. I ordered a wok with whole-grain rice, vegetables and extra tempeh and a chocolate and coconut cake, which wasn't too sweet, just the way I like it. Check back soon to read more about our trip to Italy.
On Wednesday, I was so sore that I walked like a robot and could neither stand up straight or bend down. At least I wasn't as tired as the day before and didn't fall asleep in the car. I also managed to drive almost two hours, which my mother, who had to drive most of the way to Trieste the day before because I was too exhausted to sit behind the wheel, was very happy about. Because we got home fairly late, I only managed to do 30 minutes of light cycling on the stationary trainer. For dinner, we had cold cuts and a kale salad made from home-grown kale. We like eating cold food now because it is usually too hot to cook, even at night. For lunch, both on Tuesday and Wednesday, I had a hokkaido pumpkin and potato goulash (my own recipe, which I intend to share with you soon). For breakfast, I usually drink a green smoothie, but since I had so little time this week or was traveling, I ate granola with soy milk almost every day. I like adding pumpkin seeds and maca powder, but I am sure I will write about my dietary preferences in more detail in the future.
On Thursday, we spent most of the afternoon rigging up our new boat and fine-tuning it with our friend Thomas, the owner of Sport nach Mass and Salani distributer in Austria. Unfortunately, the heat caused many swimmers and recreational boaters to "invade" the Old Danube, where we train, so we decided to switch around our workouts and did another strength-training session. While I thought that I could't do a single exercise because of all my muscles being extremely sore, I was surprised that I was able to do fairly well. It was very hard as usual, but I think I am slowly getting used to the intensity of our workouts. Before driving to the club, I had lunch with my mother and grandmother and we ate swiss chard and New Zealand spinach puree made from vegetables grown in our own garden, potatos and a salad. In the evening, my husband and I ate vegan cold cuts and a kale salad again because we didn't want to heat up the apartment even more by turning on the stove or oven. We usually eat raw bell peppers, tomatos, tzatziki, hummus, vegan cream cheese, different other spreads and whole grain (preferably rye) bread.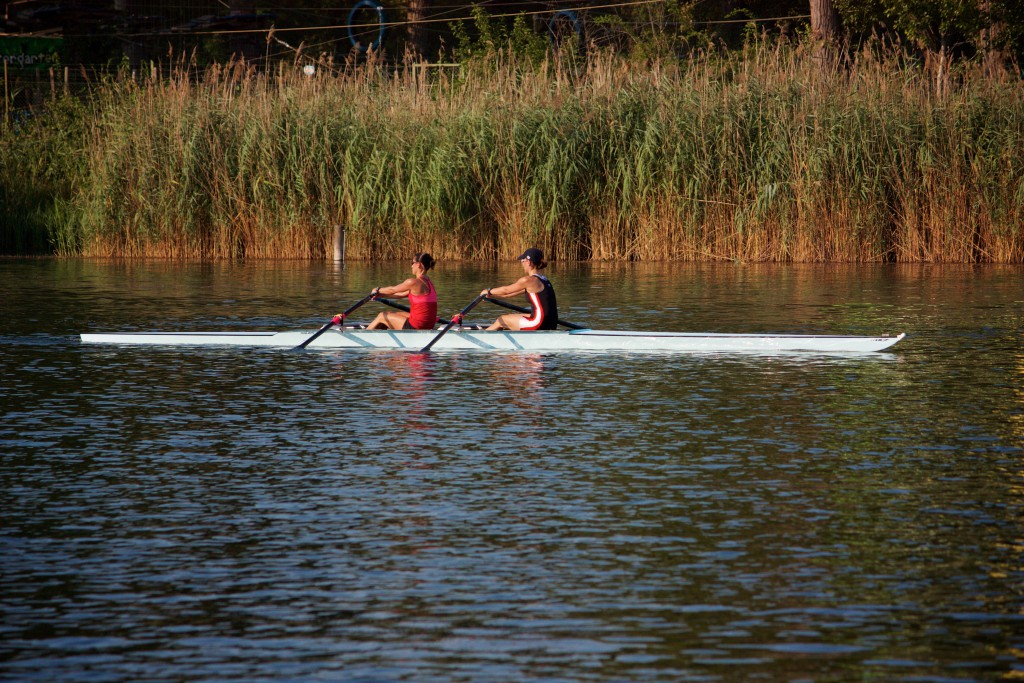 On Friday, we were able to complete our first real workout in our new boat. Thomas joined us as well to fine-tune our boat even more. It is so nice to be able to try out different settings, which usually isn't possible if you're sharing a club boat with several other crews. For us lightweights, it is especially nice to finally have a boat not built for heavier crews. Most clubs purchase boats that are suitable for the majority of its members, like the "Chinese bathtub" we had at our disposal before. The boat itself wasn't bad, just too heavy for us. We literally had to pull the oars to our ears to keep the blades in the water throughout the whole stroke, which was extremely exhausting, especially during races. Long story short, we love our new Salani, which was built for 52kg average weight (let me tell you a secret, I actually weigh a bit more…haha). For dinner, I tried out a new recipe, spaghetti squash from our garden with a tomato and mediterranean vegetable sauce and tofu cubes. I ate the leftovers for lunch today, Saturday.
Today, we once again trained early in the morning. Even at 8am, it is already around 25 degrees celsius outside. I am really not a morning person, especially at the end of an exhausting week, so I very nicely asked my husband to drive me to the club. Surprisingly, our workout with a couple of intervals went very well. We were especially surprised how quickly the boat responded and how much speed we were able to pick up when we were doing our sprints. We definitely felt like we were sitting in a rocket, particularly at the beginning of our intervals. All in all, we are now happy with the settings of our boat and are looking forward to rowing many more kilometers with it. After our workout, I rowed a few kilometers with my husband (his reward for his chauffeur services), who just started rowing this season. I was quite exhausted from my two workouts this morning that I slept most of the afternoon, which was really nice. I have only recently started appreciating a good afternoon nap. I never used to particularly enjoy sleeping, but now I am able to fall asleep virtually anywhere, especially after a demanding workout. In any case, I am very much looking forward to another week of "torture." I am sure I will get used to it sooner or later.