Since I am a little bit behind, which I really don't feel comfortable with, I will try to get you up to date in one post and then attempt to write my reviews in a timely fashion. This past week was extremely stressful and nerve-wracking, so I sadly didn't get a chance to blog. Perhaps, I will write a separate post on what I went through, but let me tell you a little bit more about my training first. It feels really good to be back!
After the Viennese Championships, both Tina and I needed a little bit of time to recover from the cold we'd caught right before the regatta. While Tina was sick all week, I was able to start working out again on Tuesday, even though some days, I wasn't able to complete the whole workout, especially if it was a bit more intense. For example, on Tuesday, I was only able to do two out of three aerobic/anaerobic intervals, which might have been the case because I did the workout on the erg instead of in the boat. Since I don't particularly enjoy working out on the erg, it always seems more exhausting than necessary. Haha.
On Wednesday, I did three times five rounds of two or three crossfit exercises, which might not have been the best idea because I still felt sore on the weekend, especially on the back of my thighs. I did squats, squat jumps, bulgarian split squats, one legged deadlifts, Arnold presses, hollow rocks and supermans. I usually do around 15 to 30 minutes on the erg as a warm-up and cool-down, depending on how much time I have and how I feel. I definitely enjoy strength training more now than I used to when I was younger because crossfit exercises are multifaceted and usually focus on several muscle groups working together. At first, coordination is often challenging, but it is amazing how fast you see results.
On Thursday, when I did two 1000 meter "races" at maximum speed in the single to prepare my body for the regatta on the weekend, I noticed how energetic and powerful my leg drive had gotten. I was supposed to do five times 800 meters, but I didn't feel particularly well that day and Tina and I were not able to do the workout in the double, so I decided it was better to not put too much strain on my body two days before the Club Championships. As far as I remember, I did a short steady-state workout on the stationary bike on Friday, as our planned training session in the quadruple scull was cancelled because Tina was still feeling sick.
On the weekend, Tina and I competed in the Austrian Club Championships in the double scull and the quadruple scull with Isabel and Gerlinde. The heats were on Saturday and the finals on Sunday. In the double, we had a very challenging heat, as we had to compete against former world champion in the lightweight single, Michaela Taupe-Traer. She and her partner also won the A-final on Sunday. Since we placed third, we only qualified for the C-final, which was quite frustrating because we would have been able to qualify for the B-final in most other heats. What was most discouraging, however, was that we weren't able to take advantage of the tailwind. The boat was unstable and the whole stroke was not clean at all. In fact, I was barely able to feather the blades and really struggled with the hands-away. We were both incredibly disappointed, especially because we'd trained so much since the beginning of the summer, and I think even considered abandoning our plan to compete in the World Masters Regatta. The race in the quadruple scull was surprisingly good (we qualified for the B-final), especially since we only trained together once this year and both Isabel and Gerlinde don't train as seriously as Tina and I do.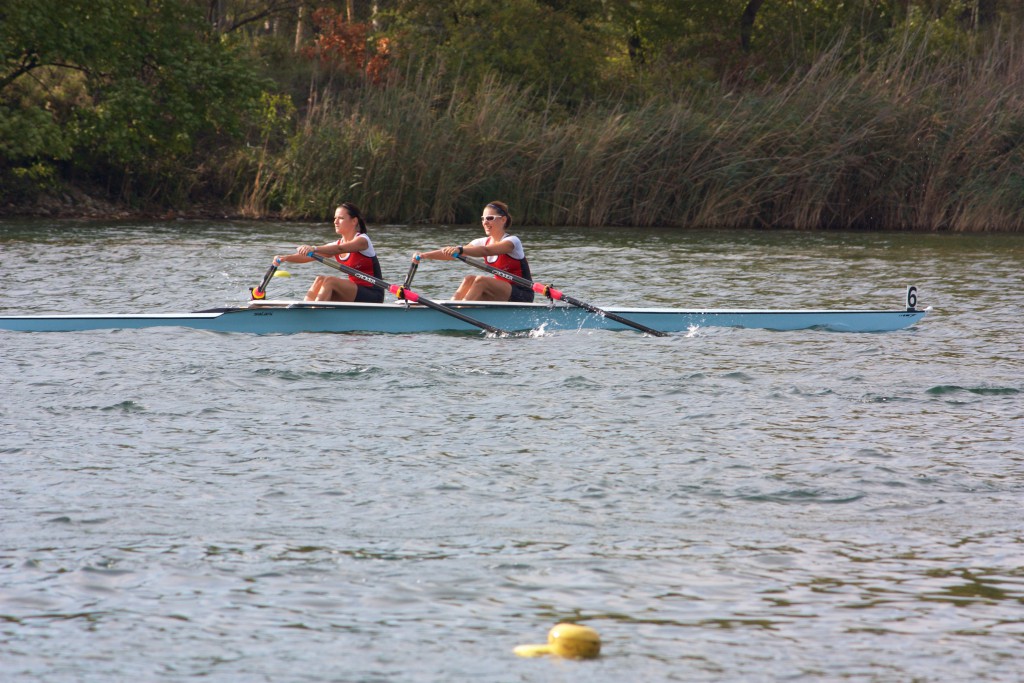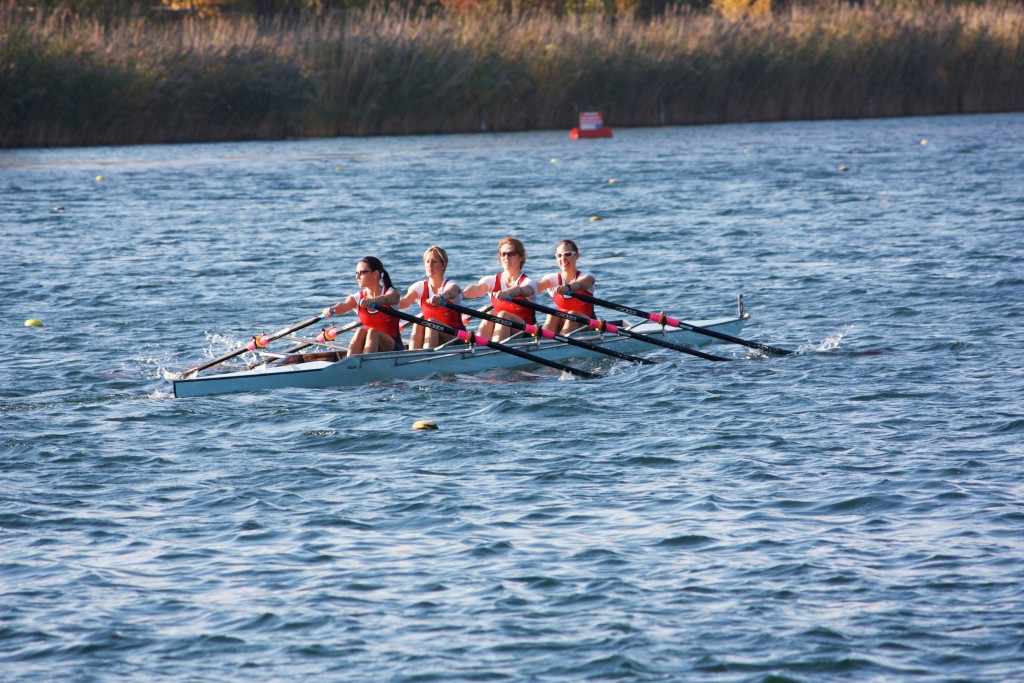 On Sunday, we were a bit happier with our race in the double. We won the C-final by about half a length, but were still not quite satisfied with our performance. Somehow, it still felt like we weren't able to work together very well. The interesting thing is that from the outside, apparently, it looks like we are synchronized very nicely (most of the time), but it just doesn't feel very dynamic "on the inside." We are able to see small improvements, but I still think we were selling ourselves short. The quadruple sculls race was very much like the one the day before, good, but not fantastic. We finished in third place, which certainly wasn't bad. The weekend was quite exhausting overall, but I am definitely looking forward to next year's races.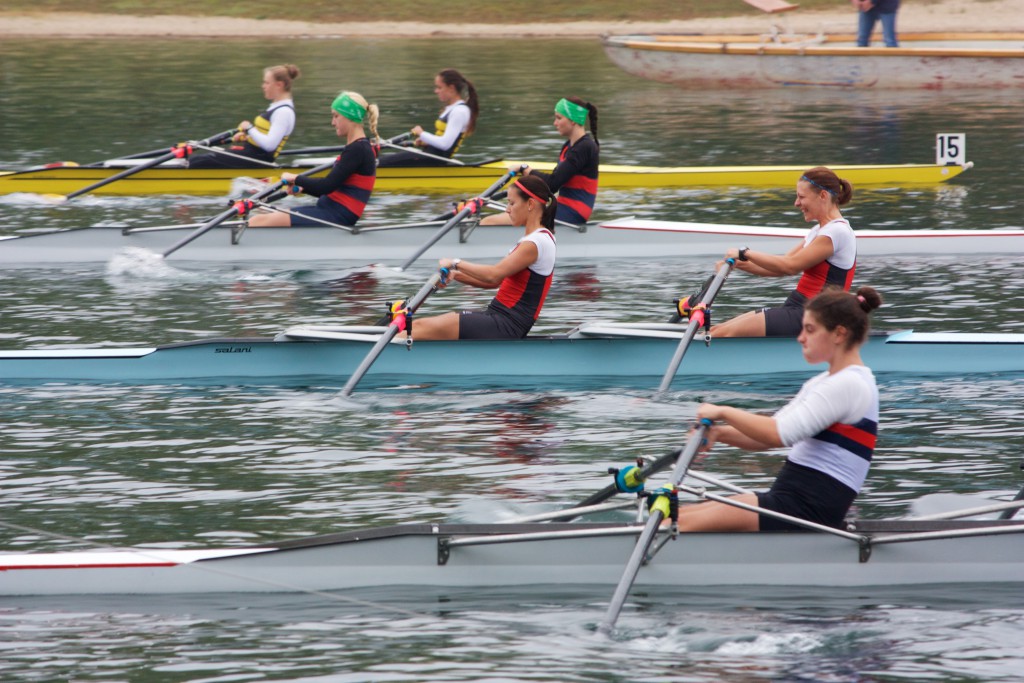 Last week, we had a training wildcard, so to say. After the regatta on the weekend, both Tina and I felt a bit drained and needed a short break from workouts in the boat, so Max told us that we could do whatever we wanted for two weeks. Since I was really stressed out all week, I did relatively short steady-state workouts on my stationary bike at home most days. Additionally, I did one workout on the erg at the club and went for a run once. On the weekend, I was unable to work out because we were traveling.
Food-wise, I was extremely hungry all the time and ate whatever I could find. I am not sure if it was because of the short diet I was on before the Viennese Championships or the weather getting colder. All I wanted to do was sit in front of our fake fireplace (a video playing on our TV), enjoy a cup of pumpkin chai and read a good book. I started cooking more and more fall dishes, including stews and different kinds of goulash, pumpkin and potato, for example. This year, I really noticed for the first time how the seasons influence my appetite. While I wanted to eat kale salad all summer, I am now craving all kinds of comfort food. On Sunday, after the regatta, we had burgers at Swing Kitchen, a great vegan burger restaurant in Vienna, and it was so good. I also had vegan reuben sandwiches at least twice. Yumm. I should definitely try to stop eating so much. Haha.